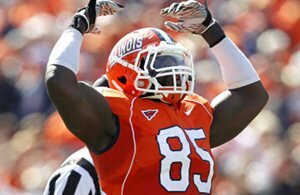 The Green Bay Packers changed to a 3-4 defense in 2009, and since then general manager Ted Thompson has not made drafting the outside linebacker position a top priority. Three-time pro bowler Clay Matthews is the lone early-round selection by Thompson at the crucial position in the defense, but after the anemic production in 2011, there is urgency for an OLB to taken high in this year's draft.
Matthews was the 26th pick in 2009 after the Packers traded two third-round picks to move up from the second round to nab him and this year would be the perfect time for Thompson to use that aggressiveness once again.
The two top prospects this year likely won't be around at pick No. 28 and if Thompson wants one of them he'll have to move up. Those two players are South Carolina's Melvin Ingram and Alabama's Courtney Upshaw.
Ingram played defensive line for the Gamecocks, but has the athletic ability to move around as a linebacker and would be a very versatile player for defensive coordinator Dom Capers. Upshaw is a player who looks perfect for the 3-4. He doesn't fit as a DE or OLB in a 4-3, but in the 3-4 he's physical vs. the run and can be a nice compliment as an edge rusher.
There are a few other hybrid passrushers who have first round grades and could draw Thompson's interest. Illinois' Whitney Mercilus, USC's Nick Perry and Clemson's Andre Branch were all defensive ends in college and could make transition to linebackers at the next level.
There a number of players who can also be options in round 2 at pick No. 60: Marshall's Vinny Curry, West Virginia's Bruce Irvin, Virginia's Cam Johnson, Troy's Jonathan Massaquoi, Oklahoma's Ronnell Lewis and Boise State's Shea McClellin.
With needs at other positions (Center, Safety, Defensive End) in all likelihood Thompson doesn't mortgage a high pick to move up for Ingram or Upshaw, but this draft is vital for improving the talent level at the OLB position. Profootballfocus.com had Erik Walden as the worst starting OLB for 3-4 teams and the guys behind him, Brad Jones, Frank Zombo and Vic So'oto are all marginal players as well.
Thompson has to address the position early, which should be either round 1 or 2.
| | | | | |
| --- | --- | --- | --- | --- |
| Outside Linebacker | School | Height | Weight | Round |
| Melvin Ingram | South Carolina | 6-1 | 264 | 1 |
| Courtney Upshaw | Alabama | 6-2 | 272 | 1 |
| Whitney Mercilus | Illinois | 6-3 | 261 | 1-2 |
| Nick Perry | USC | 6-2 | 271 | 1-2 |
| Andre Branch | Clemson | 6-4 | 259 | 1-2 |
| Cam Johnson | Virginia | 6-3 | 268 | 2-3 |
| Shea McClellin | Boise State | 6-3 | 260 | 2-3 |
| Jonathan Massaquoi | Troy | 6-2 | 264 | 2-3 |
| Vinny Curry | Marshall | 6-3 | 266 | 2-3 |
| Bruce Irvin | West Virginia | 6-3 | 245 | 2-3 |
| Ronnell Lewis | Oklahoma | 6-1 | 253 | 2 |
2012 Draft Analysis: Outside Linebackers