Well, it's official! The Packers today announced that they will induct Brett Favre into the Packers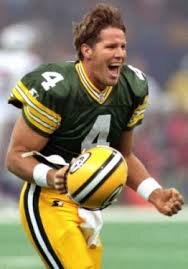 Hall of Fame and retire his jersey in 2015. Packers President Mark Murphy made the announcement about the jersey retirement while Perry Kidder, President of the Green Bay Packers Hall of Fame announced the induction.
2015 will be 45th anniversary of the Packers Hall of Fame and the first inductee will be none other than your own Brett Favre! What a momentous occasion as the Hall of Fame expands to a new two-story space and at the same time welcomes Brett Favre back into the fold. Packernation will be abuzz with anticipation of that induction banquet…slated for July 18th, 2015.
But that is not all…Packers President and CEO Mark Murphy also announced the retirement of Brett Favre's jersey at the same time, the first time these two events have happened simultaneously…in Packers history! Well I thought it couldn't get better but then we heard from Bob Harlan who spoke of the way in which Brett brought a franchise that could not compete in the NFL to a point of seemingly perpetual excellence…the smallest town in the NFL with a bigger punch than cities like New York, Los Angeles, St. Louis and New Orleans. This is Green Bay Wisconsin…home of the Green Bay Packers!
On that day…Brett Favre's jersey…number 4…will join those of just FIVE other Packers to be retired on the North end of Lambeau Field. His will be raised aloft to join those of Tony Canadeo, Don Hutson, Bart Starr, Ray Nitschke, and yes…Reggie White. The symbolism is obvious…"no one will wear your number again…because there will never again be another player like you!"
Steve Mariucci chimed in to congratulate Brett… and then…Brett himself got on the line to say a few things to Packernation. He expressed how honored he was to be able to be counted among the greats of the greatest sports franchise in the world. He answered Steve Mariucci's question as to whether he would be open to coming back to Green Bay before the induction in 2015 by saying yes, he would love that and "wouldn't it be nice to flip a coin with Bart Starr before a game…I think that would be an electric moment."
Brett left no doubt as to how he thought of himself and his loyalties…stating "That's what I am is a Packer and always want to be remembered as that", he also said "I am a Packer, will always be a Packer…it was like borrowed time playing elsewhere."
Brett related the excitement of being inducted into the Packers Hall of Fame and having his jersey retired to his first NFL victory…the moment he threw the touchdown pass to Kitrick Taylor. "I look forward to it."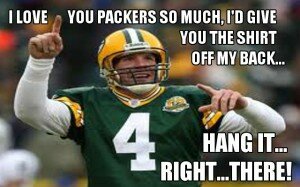 And finally, a couple of quotes from the two who really made this thing happen…
Brett Favre: "It is time to come back." …Bob Harlan: "It's good to have old friends home again…"
Agreed? What do you think Packernation? Leave me a comment below.
GO PACK!!!
3…[4]…14…15…66…92: The Packers Schedule Retirement of Brett Favre's Jersey