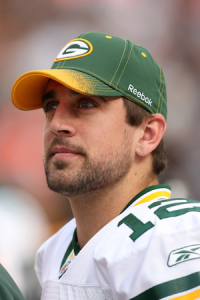 Family Night has once again come and gone and the 2015 season draws ever closer. While the scrimmage is no longer, the Family Night practice gives Packernation a chance to see the team take the field at Lambeau and run through some drills, put a ball in a basket from 45 yards, and make a Lambeau Leap or six. But Family Night was serious business for us here at GPN, because we got to watch the development of some players we've had our eyes on. Here are three takeaways from the practice.
1. Davante Adams is FINE
There was a lot of talk at the end of last week's training camp practices about how Davante Adams had not really showed up. Well let me tell you…Adams will be fine. The fact that he didn't have as many catches in training camp tells me that the coaches and quarterbacks already trust him, not that he has lost a step or can't make plays. If there was any doubt about that, the catch that Adams made last night at Family Night should put any worries to rest. Adams' combination of size and strength is rare, and we saw what he could do after the catch in the Cowboys game last season. But a catch like that shows how his athleticism, concentration, and good hands come together in rare form. Meet your next superstar Packernation!
2. I like how Raji and Ringo look
One of the concerns of this off-season was how the defensive line would come together. We all know that Mike Daniels is ready for some revenge this year but seeing BJ back has been a boon for a 3-4 defense that starts with a nose that can take up two blockers. In defensive drills last night I thought Raji and Christian Ringo looked active and frankly violent which is exactly what the Packers' defensive line needs (and, to some extent, Mike Daniels has brought). They both exhibited quick twitch, good hands and a dominant attitude. Of course, drills aren't live action but from what I saw I am expecting good things from both of these guys and frankly, I think Ringo may be a great pick.
At any rate, if BJ can anchor this defensive line, Daniels et al stand to have dominant performances. This could reverberate from front to back in this Packers defense.
3. The defensive backs are contesting balls
Is it just me or does it seem like this secondary is going to be a ball hawking one? If the changes up front pay dividends, it will create opportunities for the db's and if the db's come into their own, this could be a good year for turnovers for the Packers defense. That turnover ratio is so important to wins that it is hard to believe the Packers found a way to lose to the Seahawks in the NFC Championship last year. But this year, the 'Hawks have to come to Lambeau and if the Packers' defensive backfield continues to shine, they could make a long day for a lot of offenses.
So the preseason begins TONIGHT Packernation and we will soon be seeing these young guys in full-contact action. I saw good things at Family Night and now it is time for the young players in particular to get on the field and continue to prove themselves. Guys like Adams and Raji, on the other hand, just need to get out there and be as good as we know they can be. If they do that…the Packers will be just fine.
Go Pack!
3 Takeaways From Family Night