It's Wednesday…"hump daaaaayyyyeah!" More preseason games again tomorrow and the Pack at
the Rams on Saturday. I was watching the Aaron Rodgers interview today and three things jumped out at me.
But first, let me just say that it was good to hear Aaron's thoughts on the passing of Robin Williams. We know the guy was not perfect but he gave some many people SO MANY laughs…sad. The Cheese did a little memorial post, if you want to make a comment, you can see that here.
So here are a few targets that I have for Aaron Rodgers on Saturday. The first two are from Rodgers himself and the last I read between the lines:
1. STAY HEALTHY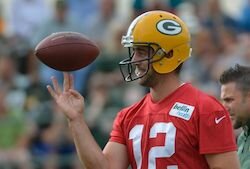 This offseason has seen more discussion of player health than any I have seen. The injury woes of last season were difficult and the injury to Aaron Rodgers was an exclamation point. So when Rodgers trots out on the field Saturday, while I will be excited to see him play, I will also be holding my breath a little.
The offensive line is in good shape (though the loss of Barclay was a shame) and should be able to keep Rodgers upright. But Saint Louis has a good defense and they will test the line more than the Titans did. While it is still preseason and no team is going to be showing a lot, everyone in Packernation knows that our season depends on our great quarterback. We have not shown that we have a defense that can win games for us (though I hope this season they can) and so we need Aaron healthy
2. Score a touchdown
Yeah, this was Aaron's second goal…to score a touchdown. I agree with him, it's important. Aaron will not be in this game for long and scoring a touchdown on the first drive will show that Aaron and his crew are 100% in sync (NSYNC?…who would be Justin Timberlake?…no matter) and would make me feel better about one part of our offense that I did not like last season…opening drives.
While I don't have stats on the Packers opening drives last season, I do know they stalled too many
times. As Eddie Lacy came on, there was improvement but there were times last year when I thought the breakdowns in the defense were partly due to the fact that the offense could not sustain drives. Anybody who has played football knows that sustained drives really take pressure off a defense while 3-and-outs really put the pressure on. Now, that is no excuse, and defenses need to be able to turn around quickly from time to time and still get the job done, but it is a concern. That is why I, will Aaron, would like to see a touchdown and sooner rather than later. Keep an eye on this team, I think they are going to score on their opening drive more often than not and put opponents on the ropes early.
3. The right tempo
The Packers have said that they want to play an up tempo game and get more plays in than last season and tempo starts with the quarterback. So I will be watching how Aaron manipulates the tempo in this game. Playing an up-tempo game requires a couple of things: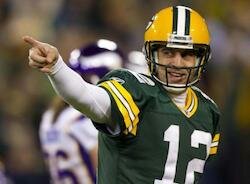 Communication is critical – especially when substitutions are required
Conditioning is Key – In order to gas your opponent…you have to have enough in the tank yourself
Calls must be Correct
I want to explain that last one…In order to play an uptempo game and get more plays in, the play calling has to be spot on. Now, the plays that are called have a LOT to do with what the defense shows and the Packers won't get away from that, but all things being equal, this team is NOT expecting to get more plays in per game by throwing deep balls all day.
A few years back, I found myself asking where the slant pass went in this supposedly West Coast offense. The Packers like to get vertical and throw the back-shoulder to the sideline against inside leverage. This gains a lot of yards and the Packers have the best quarterback in the league at throwing the back-shoulder pass and the best receiver in the league at catching it. Another thing about the vertical game is that it is safer for the receiver than catching over the middle where hard hitting safeties can make a receiver pay. I don't see the Packers changing that part of their game much…it has been too successful for too long. But they do have to change the play calling if they are going to be able to get more plays in AND be up-tempo. Here's how:
1. Pound the ball using a mix of running backs. A rotation will keep Eddie Lacy fresh (I look for him to be absolutely dominant in the forth quarter of games this year) and make the line happy as they LOVE to run block and impose their will on the D-line.
2. Use Eddie Lacy out of the backfield catching passes. This will keep defenses guessing, give us mid-range yeardage and move the chains.
3. Distribute the ball. Of course Aaron Rodgers is going to throw to the open receiver but each play has a primary and checkdowns. Look for the Packers to run more passing plays with midrange primary receivers. Jordy is of course going to have his share of catches, yards, and touchdowns but keep an eye on Randall Cobb for a breakout year.
Well, those are a few things I look for out of Aaron Rodgers in the (probably short) time we will see him play Saturday. What are you looking forward to? What do you want to see out of Aaron? Let me know in the comments section below. And as always…
GO PACK!!!
AM Quickslant: 3 Targets for Aaron Rodgers Versus the Rams