Well Packernation, draft day is FINALLY here! I feel like a kid at Christmas, just can't wait to find out what I get! Drafts can be crazy and there have been rumblings that this one may have more than one first round trade. The fact of the matter is…nobody knows what this weekend's draft will bring and that is exactly what makes it exciting!
I know there are those out there who are still adamant that we have to get the best inside linebacker prospect with that first pick. There are also those who would argue to stick with the best player available and maintain that will likely not be an inside linebacker. But many out there look at the strength of this year's draft at cornerback and are sure that is the best way to go. And let's face it…there are still those out there in Packerland who still have their fingers crossed that Melvin Gordon will somehow be on the board at pick 30 (you know who you are!) Hopefully, BPA and the Packers needs will come together with this year's draft and all of our worries will be for naught.
The Packers have nine picks this year with one in each round and a total of three in the sixth round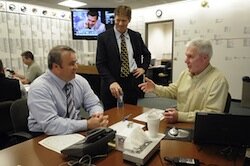 (206, 210,212) and so the one thing we can be sure of is that the Packers will add a play-maker or two, some depth and certainly some competition to the roster which guarantees that this team will be better. And if the Packers first round player can contribute like Ha Ha Clinton-Dix did his first year, that will be a great sign of another good draft.
So enjoy this weekend Packernation! The draft is here and the excitement is building. For the next three days we get to watch our Packers improve their chances of righting last season's wrongs and going the distance to Super Bowl 50. But what do you think…are you pumped about this year's draft or not? Make your opinion known in the poll below:

Well it all starts tonight so get ready to grab a drink and some snacks and let's watch the Packer brass go to work filling out and improving the Green Bay Packers!
Go Pack!

AM Quickslant: lTS DRAFT DAY!