Well Packernation, we made it through the bye week and a Sunday without Packer football! It's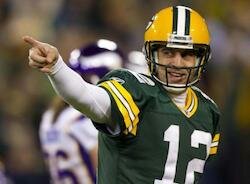 already Tuesday and the big game against the Bears will be here in no time. Today, we have a special treat after some news and notes.
Before Halloween, I asked Packernation to send in pics of the little ones in their costumes. I will enclose those at the end of the Post. Cool stuff!
Mike McCarthy signs multi-year deal. We know most of you already know this, but if you haven't had a chance to make your opinion known in our poll, you can do so here. Most of Packernation, it seems, is very happy to have McCarthy locked up.
The Eagles game time has been moved. Again, this is not new but the Eagles/Packers game on November 16th has been moved to 3:25 CST.
Derek Sherrod released. In case you didn't hear, the Packers parted ways with Derek Sherrod after the first round choice never could prove himself after healing up from injury and was a liability on the line. The Packers seemed to think that Sherrod looked good coming back this offseason, but once he hit the field, the writing was on the wall. The good news is, JC Tretter has been activated. This will be a welcome return.
So Halloween has come and gone and we certainly hope everyone had a safe one. Here are some next generation Packers fans who got out to enjoy the night. This is a real TREAT.
Coleman sent us this one, he says: "…our little guy is resting up on the bye week. Dreaming of Super Bowls of course!" Attah boy! Check out the bling! Let's see…how many more rings will the Packers have by the time this guy graduates High School? Good to see another lil' Packer tuffy getting brought up right!
Alyssa sent us this one. I LOVE it, not just because it's adorable, but also because it has the stealth factor. "OHHHH how cute! Lion, or Bear?" Neither…Packer Fan! Tricks on you!
SOOOO CYUUUTE! Thanks Alyssa!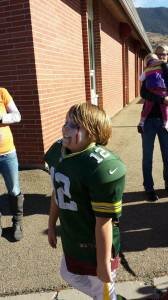 Here we have Kaleb and Keaghan, I don't know which is scarier…Keaghan is a Packers zombie, but Kaleb looks like he should be starting at ILB for the Pack! Holy Moly!
Melissa sent us this one. Wants to be a QB like Aaron Rodgers. Way to keep that elbow up! Hey wait…do I see…Yes, that's Jordy Nelson over the middle! TOUCHDOWN!!!
Now let's see your Discount Doublecheck, ha!
Well, it seems that Packernation is in good hands. Thanks to all those who sent us pics and stay tuned for more Packers news, rants, raves, and hopefully championships!
GO PACK!!!
AM Quickslant: Sherrod Out, Eagles Game Time Changed, Packer Kids' Halloween