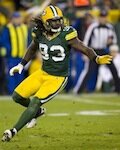 With the NFL's 31st ranked defense, the Green Bay Packers will have a difficult time winning a second consecutive Super Bowl by stopping teams defensively. It appears as if that title will be won or lost on the arm of Aaron Rodgers; a big reason for that is the lack of talent in the defense's front seven.
It can't be overstated just how great of a general manager Ted Thompson is, but if there is one area of this team he has neglected in the past two drafts it is the pass rush – and in particular the outside linebacker and defensive end positions. The front seven is the key for teams with 3-4 defenses to excel.
A guy like Charles Woodson is obviously very valuable, similar to Troy Polamalu's impact on the Steelers defense. But what has made Pittsburgh so great for the past 20 years has been their linebacker corps. They have two pro bowlers outside in Lamar Woodley and James Harrison, as well as an extremely versatile Lawrence Timmons who can play both inside and outside.
The Packers have one player with comparable talent to Woodley and Harrison in Clay Matthews, but the issue is there isn't a guy even close to that level on the opposite side. In the past two Aprils, the Packers have added just one linebacker and that's inside backer D.J. Smith. Fellow 6th-round pick Ricky Elmore was a defensive end in college at Arizona and tried out as a standup OLB, but he couldn't make the adjustment in preseason.
Not drafting a player with starting OLB talent has left this year's team with the likes of Erik Walden, Frank Zombo, Vic So'oto and Brad Jones. That group is comprised of a 6th round pick, 7th round pick and two undrafted free agents. It's hard to expect much from players of that caliber, especially when it's the most important position in the defense. Thompson simply must draft at least one projected outside linebacker early in this year's draft. And by early, I mean sometime in the first three rounds.
The second big need, which has also been overlooked, is defensive end. The loss of Cullen Jenkins has been gigantic and he hasn't been replaced all season. Jenkins made life easier for everyone else on the defense, Matthews and B.J. Raji in particular.
Second-year end Mike Neal has been a disappointment and it looks like we won't know if he'll ever be a reliable starter until his knee heals this offseason. The other two true defensive ends on the roster are 2009 6th-round pick Jarius Wynn and 2010 7th-round pick C.J. Wilson.
The Bears exposed issues in the Packers run defense on Christmas night and a lot of that blame falls on the defensive line. This team is need of at least one more 290-pound type lineman, who can play both end and tackle, and rush from both spots on passing downs. The usual alignment in the 3-4 has been Howard Green, Ryan Pickett and Raji and all of those guys are nose tackles, not three-technique ends, which is what this defense needs.
Even if this team wins a Super Bowl, there are needs that Thompson needs to address if the defense is to be relied on once again. Having more interceptions than sacks is just unacceptable and improving on that starts with adding better players.

Basketball coach, sports writer/broadcaster/blogger, Packers & SF Giants enthusiast.