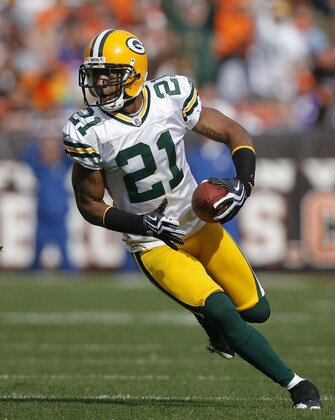 When the Green Bay Packers announced in April the release of former Pro Bowl safety Nick Collins, many Packers fans began to think of the inevitable: is this the time Charles Woodson moves to safety full time?
A season after intercepting the most passes in the NFL while also giving up the most passing yards, there are many questions surrounding the Green Bay defensive backfield.
Will corners Tramon Williams and Sam Shields return to their 2010 level? How will Morgan Burnett perform after playing his first full season? But the No. 1 question will be at what position the Packers' defensive captain will be at this year.
Woodson will enter his 15th season and his play dropped last season despite being named first-team all-pro after seven interceptions in 2011.
"I don't think it's feasible to move Charles around as much as we did in the past," Packers head coach Mike McCarthy said last week after the team's OTAs. "Charles is going to be close to the line of scrimmage and also be playing in the secondary. Charles is clearly a playmaker and he has been for us. He's played nickel, dime, corner and safety for us. So he'll continue to do those things."
It would seem like his days covering on the outside as a true corner are a thing of the past, so will he be primarily used in the slot or moved to the back end?
A lot might depend on the development of the two drafted defensive backs, cornerback Casey Hayward in round two and safety Jerron McMillian in round four.
Hayward showed tremendous ball skills and instincts in coverage at Vanderbilt and could get the first crack at replacing Woodson in the slot position should he move to safety full time. If Hayward shows the promise that made Ted Thompson move up into round 2 to get him, it would seem the best unit of five defensive backs would be with Hayward and Woodson playing together.
As a 4th round pick, it would be asking a lot of McMillian to come in and start as a rookie the way both Collins and Burnett did in their rookie years. The former Maine Black Bear has a lot of the same characteristics that former Packers safety Atari Bigby had; a physical player who would be best used closer to the line of scrimmage.
The biggest question with Woodson in moving to safety, does he have the discipline and self control to not jump routes and be the last line of defense. He's made a living with the Packers, intercepting 37 passes in six seasons, by under cutting routes and baiting quarterbacks, but he'll have to pick his spots if he's an every-down safety.
If he does do that, no reason to think he can't continue to make pro bowls at the end of his career after making a position switch the same way Ronnie Lott, Rod Woodson and Aeneas Williams did.

Basketball coach, sports writer/broadcaster/blogger, Packers & SF Giants enthusiast.
3 Responses to "Woodson a Lock at Safety in 2012?"