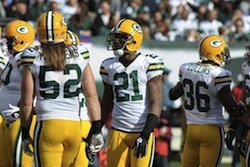 I was reviewing some stats from the 2011 season and one particular stat caught my eye… defensive scrimmage plays. I suddenly found myself wondering if the defense wasn't hitting the field tired halfway through the game because the offense was scoring so fast that there really wasn't much time for the defense to rest.
Packer High-Powered Offense
The Packer offense ranked 1st in net yards with an average of 8.3 yards per game which was almost a half yard better on every play than the next best team in the league (New Orleans). When you're chewing up ground at a rate of 8 yards each time you snap the ball, it doesn't take long to make it to the endzone (12 snaps by my calculations). At an average of 45 seconds per snap (being generous about the time it takes for the official to spot the ball) that's only 9 minutes of defensive rest per snap.
This offensive average is a big reason why the Packers sat atop the leader boards in the scoring category. When you're averaging 8.3 yards per snap, you'll score a ton of points… 560 to be exact… and you're offense will leave the field very shortly after it arrives.
Heavy Workload for the Packer Defense
Only eight teams played more snaps defensively than the Packers. The Packer defense took 1,049 snaps against their opponents in 2011. That's a lot of snaps to ask of any defense, but it's even more challenging to ask that of a 3-4 defense.
The front three in our 3-4 have been selected because they're massive individuals. They're built to hold the run gaps and make a push against the same line that 4-3 defensive lines attack with four linemen. Needless to say those guys are going to find it hard to keep going 100% if the offense isn't chewing up the clock and giving them a chance to recuperate.
The Problem with the Theory
The only problem with the theory, of course, is that the Packer defense is in complete control of how many snaps they have to play. If they cause our opponent to go three-and-out or create a turnover early in every drive, they get more rest. So, while I suspect fatigue may have played a part in our defensive struggles this past season, that could all change in 2012 if we become the defensive powerhouse we have the potential to be.
J.R. Augustine grew up in Black River Falls, WI and is currently living in Tennessee. He was born a Packer fan and survived the infamous 70s and 80s. He has immensely enjoyed the Packers' recent success and is looking forward to years of success to come.