Posts Tagged 'courtney upshaw'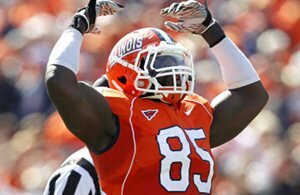 The Green Bay Packers changed to a 3-4 defense in 2009, and since then general manager Ted Thompson has not made drafting the outside linebacker position a top priority. Three-time pro bowler Clay Matthews is the lone early-round selection by Thompson at the crucial position in the defense, but after the anemic production in 2011, there is urgency for an OLB to taken high in this year's draft.
Matthews was the 26th pick in 2009 after the Packers traded two third-round picks to move up from the second round to nab him and this year would be the perfect time for Thompson to use that aggressiveness once again.

Basketball coach, sports writer/broadcaster/blogger, Packers & SF Giants enthusiast.