Posts Tagged 'kirk cousins'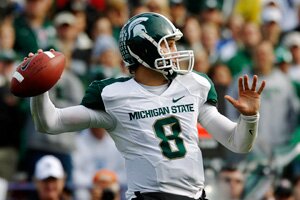 Having just lost Matt Flynn to Seattle in free agency, the Packers will be faced with their first offseason since 2008 where quarterback is a relevant position to scout for heading into the draft. The Packers barely missed a handsome return on their seventh round investment in Flynn but discovered the value in developing a middle-of-the-road passer behind a great one. Expect Green Bay to draft another arm this year that can serve as insurance for Aaron Rodgers and potential trade bait in a couple of seasons.
Mike Davidsen grew up in the north suburbs of Chicago and graduated from Indiana University with a degree in Finance. Mike has been a Packers season ticket holder all of his life and just recently became a shareholder. Mike joined GPN in May 2010 and specializes in draft analysis.