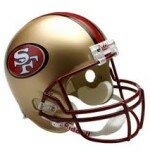 If the Packers were searching for redemption last week against a Kansas City club that spoiled their perfect regular season in 2011, they should be equally as motivated this week to take down a Forty-Niner team that has beaten Green Bay four straight times since the start of the 2012 season.
This year's Forty-Niners, led by head coach Mike Tomsula, are admittedly a very different team than the one that had the Packers' number for several seasons. San Francisco has undergone a major change in face, having lost several key contributors during the offseason, including Aldon Smith, Justin Smith, Michael Crabtree, Frank Gore, Patrick Willis and Chris Borland. This drying up of talent has turned San Francisco's defense from elite to average and forced quarterback Colin Kaepernick to carry the weight on offense.




Despite the threat he poses with his legs, Kaepernick has not produced favorable numbers in the passing game through three regular season games. The four-year veteran has thrown twice as many interceptions as he has touchdown passes, with a quarterback rating of 71.1. Contributing to the erratic Forty-Niner aerial attack has been the eight sacks allowed by the O-line this season — one more than the seven sacks recorded by the Packers defense during their Week 3 win over the Chiefs.
Where the Niners have lacked production through the air, they have been made up for on the ground. Carlos Hyde put on a show in his Week 1 debut as the starter versus a tough Minnesota Vikings defense, though has been relatively quiet since. In addition to Hyde, Kaepernick has the ability to wear down the Green Bay defense with the read option.
Even the defensive-minded Niners can expect to have difficulty stopping the Packers' lethal offense, which is averaging 32 points per game. If the Packers play error-free football the way they have during the past two games, it's hard to imagine a San Francisco victory.
Prediction: Green Bay 34 San Francisco 13




Breaking Down Week 4 vs. the 49ers