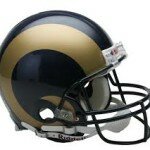 When the regular season schedules were released in April, the Packers' Week 5 meeting with St. Louis was not likely one that head coach Mike McCarthy circled on the calendar. At 4-0 and returning to Lambeau Field, this contest with the 2-2 Rams is one that the Packers are very much supposed to win. However, lending some attention to the Rams' strengths – which were fundamental to their victory last week over the previously undefeated Cardinals – can remind one that this game could be closer than the point spread might suggest.
Since taking over as head coach of the Rams, Jeff Fisher has preached excellence on defense, which has become most evident on the defensive line. The Rams front four – which includes Robert Quinn and Chris Long – has been particularly disruptive to opposing quarterbacks through four games, sharing the league lead in total sacks (17) with the Packers. Rams GM Les Snead made the league's best defensive front even stronger during the offseason with the acquisition first-round pick Nick Fairley, who splits playing time with fellow first-round defensive tackles Aaron Donald and Michael Brockers.
The arrival of this forceful St. Louis defensive line is not a favorable matchup for the Packers, given the inconsistency seen in the Green Bay offensive line as of late. As a result, Aaron Rodgers has repeatedly been forced to move in and out of the pocket, exposing himself to injury. Should right tackle Bryan Bulaga not be able to return to the starting lineup this week, the Packers could be looking at offensive production similar to last week.
On defense, expect the Packers to give special attention to rookie tailback Todd Gurley, who shredded a strong Arizona Cardinals defense last week for 142 yards on the ground. Since being embarrassed by Matt Forte in Week 1, the Green Bay run defense has turned things around, allowing only 271 total rushing yards across the following three games.
While the Rams do not present the same type of threat through the air as most other playoff-caliber teams in the NFC, quarterback Nick Foles did find success in his one start as an Eagle at Lambeau Field. Foles has arguably fewer weapons as a Ram but, like Rodgers, does not make many errant throws under pressure.
Look for Mike McCarthy to stress discipline in this matchup against a St. Louis team that thrives off of turnovers on defense and big plays on special teams. And even though the Rams come to Lambeau with some momentum, Foles and the Rams will still need to generate much more offensive production than they have in the prior weeks to knock off the undefeated Packers.
Prediction: Packers 24 Rams 19
Breaking Down Week 5 vs. the Rams