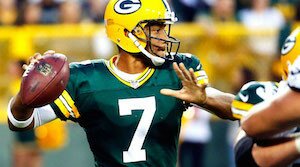 When the Packers drafted Brett Hundley, I was thrilled. Most were dumbfounded that Thompson would go after a QB but I loved the pick. Still, I figured he would be a work in progress. I expected that he would sit behind Aaron Rodgers while he developed into a quality quarterback.
Brett, on the other hand, decided that he was too impatient for the long approach and decided to impress right out of the gates.
Hundley struggled in camp early but really put the pedal down quickly.
During the preaseason, Hundley got playing time in all four games and accumulated 630 yards passing in his limited time on the field. The only QB that bested him in that category was Landry Jones, a third year player from Pittsburgh. And… get this… Landry required almost twice as many passes to beat Hundley out in the total yards category.
I was very impressed by Brett's accuracy. Despite frequently scrambles, he completed 69.2% of his passes. While it's preseason and that number can be skewed by flighty QBs who drop passes to their check-downs repeatedly, such is not the case with Brett. He went up against starting defenses and connected downfield with receivers.
Game three was Brett's most impressive (in my mind). Aside from some initial "happy feet" he really settled in and moved around in the pocket while keeping his eyes downfield to look for open receivers. In game four, the happy feet returned a little bit, but I'll cut him some slack for being a rookie. After all, he still completed 16 out of 23 passes for 236 yards and four touchdowns.
The way Brett has performed in the preseason makes me wonder how he fell so far in the draft. I've watched Winston and Mariotta play and Hundley is more prepared to start in the NFL than either of those two. And, I'm not the only one. John Gruden asks the same question to Brett in the following video.
Brett Hundley Engages Afterburners in Pre-Season