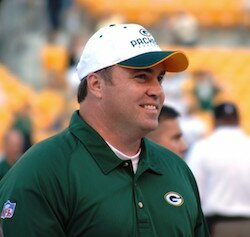 Yesterday, news began to leak out that Mike McCarthy might be relegating play-calling duties to Tom Clements. As reported on WDUZ-FM in Green Bay, Clements has been elevated to associate head coach and will call the plays. Wide receivers coach Edgar Bennett will replace Clements as offensive coordinator.
Many in Packernation will be very happy to hear this news after decrying the end of game play-calling in the Seahawks game. Keep in mind, however, that this decision came not just after a game that ended with questionable play-calling, but also after McCarthy made comments about why his assistants were not being considered for open head coaching vacancies. The title change and play-calling that Tom Clements does next season may very well lead to his eventual departure from Green Bay. This would be a good thing on the one hand because it would expand McCarthy's coaching tree but would at the same time would obviously be a shake up for the Packers.
I think this move is a great one though, but not for the reasons many would think. Who is to say that Clements will be a better play-caller than McCarthy? Who can assure Packernation that he will be more aggressive and not play the odds the way McCarthy does? This coaching staff is tight-knit and they think alike. I do not expect any major changes in the play calling except in one area in particular. But first, a shout-out to Mike McCarthy.
I have said from early in McCarthy's tenure that he is an excellent organizer and manager. This strength makes him a great head coach because that is what head coaches are in the NFL…managers. Relegating the play-calling duties will allow McCarthy to be even better as a manager and in player relations. This is a boon for our team. And not having to call the plays will allow McCarthy to be less in the moment and more strategic in his thinking as he watches games. Watch for halftime adjustments to improve in 2015.
But here is why I am excited to have Tom Clements call the plays:
Clements will allow Rodgers to call more plays. I see very little departure from the Packer norm play-calling because Clements is sending in the plays. In fact, if there is a change in the aggressiveness of the play-calling, that will be a change that comes down from head coach McCarthy. Remember, Tom Clements is going to answer to coach McCarthy for the plays he calls and be in constant contact with the head coach during the games for feedback on the plays. But with Clements calling the plays, Aaron Rodgers will be able to take a stronger on-field role. This is VERY exciting…as Aaron Rodgers has become one of the best play-callers in the business. I look for an improvement in the team based on this change.
But what do you think Packernation?
[poll id="71″]
Clements To Take Over Play-Calling Duties