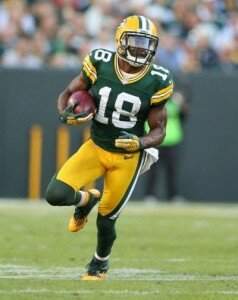 In Week 1 of the 2012 season, the Green Bay Packers unveiled Randall Cobb as their all-purpose weapon. It worked in the 30-22 loss to the 49ers, to the tune of a team-leading nine catches.
He was their version of Percy Harvin; being used out of the backfield, the slot position and out wide. And to a degree, he was going to be the X-factor that Darren Sproles is to the New Orleans offense. Remember that Sproles guy had 15 catches for 116 yards in the 49ers playoff win over the Saints last January.
However, after the Week 4 injury to No. 1 receiver Greg Jennings, Cobb was used less and less in that role as the season progressed, and instead he's become the Packers' version of Victor Cruz.
If Cobb can duplicate Cruz's success against San Francisco, the Packers will likely be advancing on Saturday night. Matched up all game with the 49ers' top cover guy Carlos Rogers in last season's NFC championship game, Cruz had 10 catches for 142 yards, primarily working out of the slot position.
Go back to that Week 1 game, it was Jennings who was in the slot the entire game and he had just five catches for 34 yards. His yardage total was even in the lowest total of all the Packers receivers who caught passes that day.
So how will Mike McCarthy divvy up the opportunities for the wide receivers in Saturday's playoff game? With Jordy Nelson hobbled by a knee injury and with Cobb being Rodgers' go-to guy this season, it would make sense that the Cobb, Jennings, Jones trio will be on the field for a big majority of the game.
In Week 1 that wasn't the case. Cobb was the wide receiver off the field in traditional three-wide sets.
For the Packers to maintain balance and not become a predictable passing offense like they were the first time vs. the Niners, the key will be how the offense moves the football with Cobb in that slot position.
Cobb Instrumental to Packers' Success in San Francisco