The NFL Combine concluded Monday with the defensive backs. And while the defensive lineman class showed itself to be exceptional and the stars performed like stars (Elliot, Tunsil, Bosa), there were really no stunners, nobody that came out of nowhere to become a round shaker. The wide-outs were the slowest since 2012, running an average 4.56, which doesn't mean they won't make good NFL receivers. The Packers have proved for years that if a guy has burst off the line, can get in and out of breaks, and can make every route on the route tree look the same to a cornerback, they can be successful in the league. The Raiders, on the other hand, drafted receivers for speed for years, and how many Super Bowls did they win? For perspective…Jerry Rice never clocked faster than a 4.59 40 yard dash time.
But the Combine is a chance for some guy that nobody thought was a baller to make GM's slide forward in their seats and lean in. This really didn't happen (Though Lee raised some eyebrows with a 4.47 40). More often, players jumped down than up and Robert Nkemdiche led the list, answering questions about the December incident in which he fell out of a balcony. Marijuana was found in the hotel room and while Nkemdiche denies using, he was quick to point the blame at roommates and say that he took the blame because the room was in his name, claiming that he was just drunk at the time. While this may all be true, it doesn't instill confidence in teams that had looked at Nkemdiche as a locked in first rounder. On my big board, Nkemdiche will find his way to the bottom of the first or top of the second.
So the Combine performers, for the most part, performed as expected…how does that affect some players that PackerNation covet in the first round?
Hunter Henry:
First of all, Hunter Henry didn't run the 40, which means he has his pro day alone to impress. His 13 reps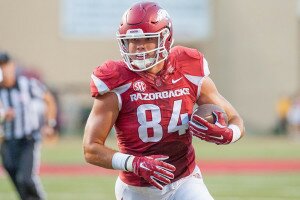 at 225 are not going to change the view of some that with a weak tight end class…Henry could be the cream of the crap.
Now, watching this kid on tape makes all kinds of exciting scenarios come to mind as we've mentioned before. On the other hand, the tight end position is not highest priority for most NFL teams, especially in a draft that has so many excellent defensive line prospects. Not running at the Combine will only hurt Henry if he runs poorly at his pro day because he will only have the one shot at it. But one has to ask whether Ted Thompson is going to value this guy as a first round choice.
Reggie Ragland
Ragland ran in the low 4.7's in the 40 yard dash which is about the expected number, but his 4.28 20 yard shuttle, while not blazing (Clay Matthews ran a 4.18), is pretty good for a prototypical inside linebacker. Ragland had a stutter and a stumble in the read and react drill but this was just due to anticipating what the coach was going to do. Raglands feet looked really good in the 4 bag drill which is important for an ILB who has a lot of trash to deal with on the field. The real question mark for Ragland is whether he will be able to shed in the NFL where he will not have the benefit of roaming free. Also, while by no means a liability in coverage (broke up 6 passes in 2015), teams will test him with mismatches at the next level.




All in all, Ragland was pretty much as advertised. While more scenarios than not have Ragland going before the Packers pick at 27, I think the performance of the cornerbacks (in my estimation the second best group in this year's draft) may inject more DB's into the mix and perhaps push Ragland into the Packers hands. He would be a good pickup…remember, he can rush the passer.
Conclusion:
I think this year's Combine, if anything, will prompt Ted Thompson to trade down into the second round. Compiling picks is TT's MO and this year's draft is going to yield some very good players (CB, DL, OL) in the second round. I expect Thompson will be working to find a team that wants to double down and jump back up into the end of the first round and he will go for it.
If he stands pat…I have to expect the Packers to pick up a DL or CB in the first. Yeah, I said it…I wouldn't expect an ILB (still think Ragland will be off the board) and the DL crop this year is outstanding. Thompson, as we all know, does not waver in the winds of PackerNation's voice so I think the odds are in favor of the best player available being from one of those positions.
But would it be so bad to trade back in this year's draft? Personally, I would have NO problem whatsoever with trading down after watching the Combine…IF I knew that Thompson was going to pick up an ILB or TE in free agency. I will put a poll up later to find out what PackerNation thinks about that notion.
Go Pack!
Combine Yields No Stunners – Which Means WHAT for the Packers?