I am writing to let you know about the story of myself and my fiancee, Mika McBroom. Mika is from Siren, Wisconsin, and is from a family of big Packers fans. Her entire family bleeds green and gold! In September 2010 Mika moved to Newcastle, England to study for a year and it was here that we met. Of course, during Mika's year in England the Packers won the Superbowl! She couldn't believe she was away from Wisconsin for such a huge event! At the end of her studies Mika had to move back to the States and lived in Minneapolis – a Packer in Viking territory! We kept in touch during the next few years via Facebook and Skype and met up again last March in England. I then travelled to Wisconsin last June and proposed to Mika. Thankfully she said yes!
We made the decision to start our life together in England so Mika left the States in November with
her final Packers game being in Minneapolis for the narrow win against the Vikings. Since her move to Newcastle we watched every remaining game of the Packers season together and thought that lightning was going to strike twice with a Superbowl win in a year Mika was away from Wisconsin… So close! During our time together I have gone from knowing nothing about 'American' football to being a huge Packers fan. My birthday and Christmas gifts from Mika's family were all Packers-related and I'm now probably the only guy from Newcastle, England walking around in a Packers jersey! My recent batchelor party even resulted in me being dressed as a Packers cheerleader by my friends!
Following the Packers has been a thing Mika and I have shared and grown into as our relationship has grown and the team are a huge part of both of our lives now. We are marrying here in England on May 6th and plan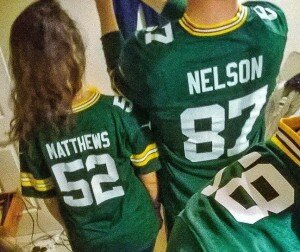 to head to Wisconsin for Thanksgiving time. Hopefully I will get my first Lambeau experience during this time. Newcastle is very similar to Wisconsin – we are really far North and the weather here can be very cold compared to the rest of England, we love our football team and are sports crazy and we are known for how friendly we are as people. It's little wonder that I've found such an attachment with the Packers! I really see myself as part of 'the Pack' now and sharing Mika's love of such a wonderful team.
Please join with all of #Packernation in congratulating Andy and Mika
Congratulations Mika and Andy! Getting Married TODAY!!!