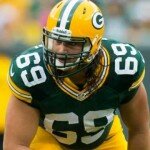 As is often the case during training camp, skill position phenoms have garnered the media's attention – this August's headlines centering around the promise of Stanford star Ty Montgomery. Now, with the Packers losing Jordy Nelson to a torn ACL, one can expect the conversation on Montgomery to grow even louder.
But what should also be top-of-mind for Packer Nation is the recent injury to starting left tackle David Bakhtiari. A fourth-round draft pick in 2013, Bakhtiari has been the unexpected anchor to Aaron Rodgers and the offense during his two years in Green Bay. Preparing for the worst, Bakhtiari's injury has prompted the discussion of shifting Bryan Bulaga from right tackle to the reigning MVP's blindside.
The Packers have played their fair share of musical O-line over the years, finally being blessed with a healthy front five last season. And while it's true that the positional group has some depth, one can be sure that Mike McCarthy and his staff would love nothing more than for these backups to warm the bench all season.
The loss of Bakhtiari – or any other lineman for that matter – instantly makes O-lineman Don Barclay a critical asset for 2015. Interestingly enough, it was Barclay – largely unproven at the time – who rose to the occasion when Bulaga was lost before the 2013 season even began. Barclay has not looked nearly as impressive this August – and lacks the size and build sought-after in a starting tackle – but the hybrid O-lineman would at least allow the offense to function regularly.
Unlike injuries to some skill positions, losses on the O-line often carry amplified consequences, such as injuries to other key players. Should the Packers be fortunate enough to see the O-line remain intact throughout 2015, the offense should find the end zone on a very frequent basis – even without Jordy Nelson.
Continuity along O-Line a Vital Component of Offensive Success in 2015