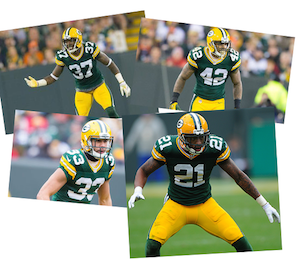 A couple of brand new rookie defensive backs have just joined an already very young defensive backfield. This much youth might be a problem for most teams, but not the Packers.The elder statesmen in the Packer defensive backfield are Morgan Burnett and Sam Shields. Each has played with the team for six seasons now. They bring a ton of experience to the table though, as each of them saw extensive playing time as rookies and have been long-time starters. In the world of hard-hitting football many players at various positions might be on the decline by their sixth season. However, Charles Woodson and Al Harris showed us that defensive backs can have very long tenure in the NFL.
Woodson played with the Pack for seven seasons after spending eight seasons with Oakland. Harris played for Philadelphia for five seasons before arriving in Green Bay and launching an outstanding career wearing the green and gold. How many more seasons would he have contributed to the Packers? We'll never know.
The rest of the contributing defensive backs are as follows:
Casey Hayward (entering his fourth season)
Micah Hyde (entering his third season)
Chris Banjo (entering his second season)
Ha Ha Clinton-Dix (entering his second season)
Sean Richardson (entering his second season)
Add to this list Damarious Randall and Quinten Rollins and you have a seriously young backfield.
A young backfield generally equates to an inexperienced backfield, but the Packer front office and coaches have proved that inexperience doesn't mean you won't be able to contribute. They have done a fantastic job of finding youth that is either ready to contribute right away or can quickly be developed.
Both Morgan Burnett and Ha Ha Clinton-Dix became starters as rookies. And, every one of the others on this list have seen a bunch of field time early on.
With youth and depth like this, the Packer defensive backfield could perennially be tough for many years to come.