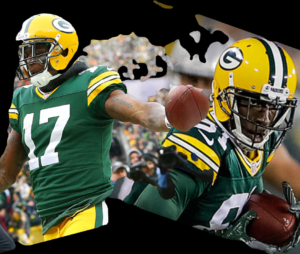 It doesn't take much searching to discover that the idea of a sophomore slump is hotly debated. Still, the fact remains that not every player makes the expected step forward following an impressive rookie outing. Just ask any Packer fan about the Davante Adams second-year-scare.
Davante wasn't alone as his promising rookie season was following by a season plagued by dropped balls. Remember Jarrett Boykin? Most of us do… and do so for the wrong reasons. It's difficult to remember the promising performance that appeared to have secured Boykin the position of third receiver because it is so overshadowed by his drop to the bottom of the depth chart and subsequent release.
This year it's Geronimo Allison's turn to have the eyes of Packer Nation boring into him as we wait to see whether he will continue to explode or melt into Packer history.
Why Do NFL Players Slump?
One of the primary reasons I think players slump after a break out year is that coaches now have a bunch of film on the player. Every poker player has "tells" and every poker player works very hard to hide their "tells." NFL players are no different. If you watch enough film on any player you start to see little indications that tip off what comes next. Coaches know this… and defensive backs know this.
Coaches and defensive backs around the league will be analyzing Geronimo Allison's tells. If they can figure them out and counteract them, Geronimo's sophomore season could be an uphill battle. However, if Allison can find a way to hide the "tells" he'll be on his way to overcoming the sophomore slump.
Sometimes a slump can happen because of external forces. A rookie QB might have a slump because he loses a number of his offensive linemen. A WR on the other hand would likely only have a slump if his QB changes. This would obviously not be the case with Geronimo. He just needs to stay on the same page with Rodgers and he should take the next step.
Another cause of a sophomore slump is increased responsibility. During a player's rookie season the coach will quite often reduce the playbook to a relatively small number of plays because the rookie isn't ready to handle the entire playbook. In a player's sophomore year, the coach tends to open up the playbook a little bit and expect more from the second year player. Some players respond well and make the next step in their development and some players don't handle the added workload well.
What Allison Needs to Avoid the Sophomore Slump
First and foremost, Geronimo needs to stay healthy. While that might seem like simple thing for a wide receiver who does not take the nasty hits that some of the other players have to take, the Packers have struggled mightily to keep their players healthy in the recent history of the team. All we have to do is look back on Jordy's seemingly minor injury that led to surgery to know that an injury might completely derail Geronimo's efforts to take his game to the next level.
Secondly, he needs to find a way to not let the pressures around him affect his play. The questions journalists ask, the articles written about Allison (yes, including this one) can put a great deal of pressure on a player to live up to expectations. That expectation can be overwhelming when you think of the many millions of Packer fans and journalists making judgments in article form and even in simple social media posts. So, while I hope every Packer fan on earth reads this post, I hope Geronimo doesn't read it but focuses on continuous improvement.
Finally, and probably most importantly, Geronimo needs to stay on the same page with Aaron Rodgers. This, I think, is the biggest problem Davante had during his sophomore slump. After an outstanding season, Adams just seemed to be not in sync with number 12. He wasn't clicking with Aaron in any facet of the game. This, in conjunction with a lack of focus contributed to the massive drops Adams experienced during his disappointing second season. If Allison wants to avoid the same fate, he's got to stay in sync with Aaron.
Why Geronimo Allison Will Avoid the Sophomore slump
Geronimo reminds me a lot of Donald Driver. Like Allison, Driver was overlooked in the draft. He clawed and scraped to get playing time. Nothing ever came easy to him.
Allison knows what it's like to fight for a spot on the roster. He will continue to work hard because unlike a Jordy Nelson or Randall Cobb his reps as a receiver and even his spot on the team is not a sure thing.
That kind of motivation is just the kind of down to earth incentive that a guy like Geronimo needs to take the next step in his career.
Share the post "Geronimo Allison Sophomore Season"