The Situation
Peyton Manning has gone on record as saying he hates the media in his face before and after games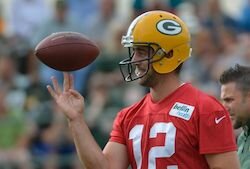 and now Aaron Rodgers just stated on the Dan Patrick show that he also feels uncomfortable with the way the cameras are being let onto the field.
Should there be a limit to what media can cover?
I know the media is what makes the NFL money so they do get a lot of lee-way when it comes to getting close to the action so to speak. But if players feel like their privacy is being infringed upon should the league step in and put limits on when and where these cameras can be?
For instance, Aaron says he got hit in the back of the helmet during the pregame huddle when TJ Lang was giving his pep talk, and Aaron makes a good point, why be there at all when so much of what is said needs to be bleeped out anyways! Or when a player does want to have a private moment with a old teammate or coach but they can't because the cameras are right in their face .
As a fan it is nice to get right in on the action that the media provides for us but as a person I understand there are moments that should be kept private between teammates and coaches that are old friends, the issue brings three questions to mind:
Where do they draw the line? The media isn't allowed everywhere at all times but should the refs be wearing GoPro cams clipped to their caps?
And how can they keep us as fans entertained with the interaction of the sport we all love, while at the same time keeping the players from feeling intruded upon by our selfishness.
Does the media make the entertainment, or do the players make the entertainment and the media covers it, and how much of the entertainment value falls outside of the game itself?
These are questions I feel need to be brought to the commissioners attention.
I would like to hear what your thoughts are on this subject so jump on the Facebook Fanpage and drop me a comment.
Thank you,
Jeff
Reply Forward