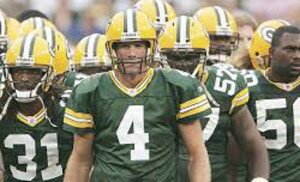 Elliot Harrison recently did a piece on NFL records that may never be broken. It runs counter to conventional wisdom to even think such a thing when, after all, "Rules are made to be broken." Maintaining a record has become increasingly difficult for quarterbacks as rule changes have favored the scoring of points. But Packernation has what could be one of the few exceptions.
Brett Favre's consecutive starts record is one of those that will become more and more difficult to beat. It stands as the "Ironman" record and may stand forever. But forever is a looooooong time. Favre started not just through physical pain (broken thumb etc.) but also through emotional pain (the death of his Father) and not only played but won.
So what do you think Packernation…will the Ironman record stand forever? Make your opinion known to the poll below. You must choose…choose wisely!
And Go Pack!
Head to Head: Will it be Broken?