A lot of the talk this off-season is whether the Packers will indeed be more active in free agency. Rumors that the Packers will sign up to five free agents, and more recently, that they might be interested in a trade for Connor Barwin have some in PackerNation excited and others skeptical. Here we wan't to paint a realistic picture of what to expect from a Packers GM who is apparently under some pressure to get more done, but historically is wont to spend money on the risk of a free agent. Further, the Packers philosophy of draft and develop certainly paints a background that would bring a splash free agent into sharp relief if the Packers were to go after one. At the same time, the Packers own free agents are significant elements of the off-season picture. Here we take a swing at what could happen if the Packers make a realistic foray into free agency and how that could impact this year's draft.
Ted Thompson
While I often hear Packers fans say "Ted Thompson never does anything in free agency"…that just isn't true. Certainly Thompson's basic philosophy is draft and develop, he has carefully and cautiously added some major playmakers (as well as a few inexpensive duds) through free agency as well (see a full treatment here). A better description of Ted Thompson would be that he is overly cautious in free agency and weighs the draft as a much richer and less expensive forum to build a perennial winner who has a chance at the big dance.
Thompson's success in building teams this way cannot be understated. Mike McCarthy in an interview with Larry McCarren stated plainly that continued success in the NFL is much more difficult to achieve than going the distance one year. Thompson's draft and develop philosophy, combined with his reticence to overpay free agents and his nose for good young talent, drafted or otherwise, is a big part of that success. On the other hand, going after and securing a difference maker has done well for the Packers in the past, as GPN's own Jeff Hayes alluded to in his most recent post on free agency. And there are certainly some intriguing prospects out there that fit the Packers' needs.
The Situation
With the release of Sam Shields and James Starks, the Packers find themselves with cap room to spare. According to Sportrac, that number is $43,568,612 at this time. If Julius Peppers retires, that number could go up. This is certainly some serious room to make a move. But the Packers have their own free agents to decide on and that will be the first order of business for Thompson et al.
Aaron Rodgers has said that right end Jared Cook should be a top priority and that is true, though Rodgers doesn't make the calls, he certainly has influence with the Packers brass. The other big names are the Packers' offensive linemen TJ Lang and JC Tretter. TJ has said that the Packers have yet to reach out to him and with Thompson's lack of regard for former Packer and perennial pro-bowler Josh Sitton, coupled with Lang's late-season injury the situation is a concern. Rodgers, for his part, has made it clear that he wants to maintain continuity in a line that has served him well in recent years but Thompson's trading up to draft Jason Spriggs last year and his ability to find gems in the later rounds of the draft could spell an end to Lang in Green Bay. Tretter will likely hit free agency and find that his versatility and his excellence at the center position make him more valuable to other teams than one like Green Bay, who has Corey Kinsley anchoring the spot that Tretter vacated upon injury.
Eddie Lacy is another offensive star that the Packers could certainly use as a one-two combination punch with Ty Montgomery should he be
healthy, able to stay in shape, and the price is right. But if it is not, the Packers could bring back Christine Michael, who flashed but got little playing time as a later addition to the team.
On the defense, it seems that Julius Peppers may have played his last down as a Green Bay Packer and possibly as a football player. The once dominant OLB/DE was held in the stable for the playoffs but failed to produce when the team really needed him. His leadership will certainly be missed though, as he was a veteran on a very young defense.
Critical signings for the defense include Nick Perry and Micah Hyde. Perry had his best year as a Packer and was as available as he could hope to be with a broken hand. The former first round draft choice ended the year with 11 sacks and was a bright spot in a pass rush that seemed to have dimmed in terms of its former star Clay Matthews and the aging Julius Peppers. Getting Perry back would be costly and, admittedly a risk as he has been so injury prone, but it he is willing to take a match deal or even slightly less to come back and play with a contender, the Packers and Ted Thompson would be advised to prove that their draft and develop approach works with Perry.
Hyde is not one of those guys that will wow you with his physicals or athleticism, but he was invaluable to the Packers' defense in 2016. Hyde, along with Morgan Burnett, played every conceivable position on a defense that was riddled with injury and Hyde made some savvy, game changing plays down the stretch. If the Packers can get both these guys back, they could let Datone Jones go and not lose as much face in terms of draft and develop.
Even if that comes to fruition though, the Packers still have huge question marks at the Cornerback position. With Shields gone, the backfield would look to be just as porous as it did all of 2016 without help. This need plays into the Packers' hands though as the free-agent pool as well as the draft are loaded with talent.
The Trade-offs
Any time the Packers sign a free-agent, whether their own or from another team, there is a trade-off. Part of the reason Ted Thompson leans toward signing his own guys is because, well, they are his. Any worthy developed player who signs to stay with the team stamps Ted's system as valid. But another reason Ted signs his guys is because they don't tend to be overpriced. Even the ones who test the market, if they come back, seem to be willing to do so on a match contract or a similar contract with a lot of incentives (workout bonuses etc) written in. This maintains the cap space that Ted wants to keep and when it works, makes everyone happy. The free agents market, on the other hand, often becomes a free for all of desperate teams willing to shell out un-told sums for a player that may or may not be an upgrade when the dust settles. Thompson definitely prefers the former… and to his credit, I think.
But the free agent market this year has numerous cornerbacks and rushers that could be difference-makers in the Packers' system. But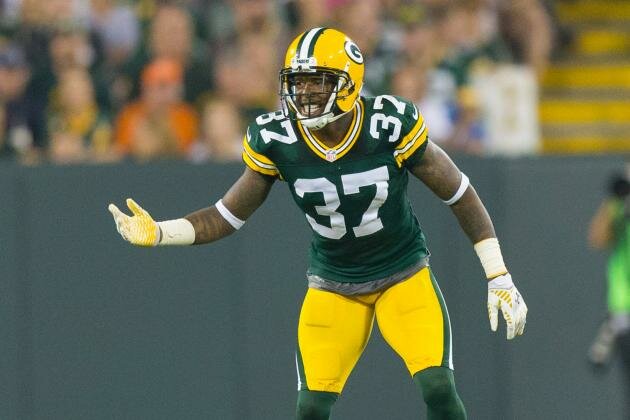 there is always a trade-off and in this year's case, the trade-off could be losing a valuable free agent that has played for the Packers for years, knows the system, and wants to be in Green Bay. There is only so much money and in particular, free agency from the "frenzied" first 24-48 hours, tend to ride the wave of perceived value and the competitive nature of teams that not only want a good player, they just don't want to lose. In actuality… the latter may be more at the heart of the hideous dollars that guys like Mario Williams (2012, Bills – 6 years $96M), Ndamukong Suh (2015, Dolphins – 6 years 114.4M), and Jairus Byrd (2014, Saints – 6 years $57M) scored for their contracts…every team wants to be labeled a "Free Agency Winner" but these teams continue to be losers. Worse, teams like the Bills still have up $67.4 million to Williams over 4 years, that kind of number can hamstring a team for years to come. This is why I agree with SB Nation and, defacto, Ted Thompson, that the free-agent frenzy is to be avoided. I wouldn't mind, however, to at least get the impression that Thompson was putting his name in the hat for some of these guys… the worst they can say is "No".
Hedging My Bet
With all of the above outlined. I don't expect the Packers to pick up a top free agent early in this year's frenzy any more than any others. But looking at especially the number of cornerbacks out there (you can vote on which FA cornerback you want right here), I have to believe Ted has his eye on a few that might be slightly overlooked early on and add great value without commanding exorbitant money. When it comes to this off-season, and with the fact that Ted Thompson is in charge, I don't expect a Reggie White type signing. Frankly I don't think there is one out there. I would like to see a Charles Woodson type signing this year. A veteran in the defensive backfield who knows how to bring a championship spirit to a defense. To create the type of defense that can impose its will on an offense. Of course, this requires a resurgence in the pass rush as well. If Thompson could pick off one of the top cornerbacks, and then add a rusher like Mario Addison from the Panthers, who, at 6'3 and 260 pounds would definitely be an upgrade to Datone Jones if he could make the switch to a 3-4, Addison is 29 and still may not have reached his full potential and that is saying something for an undrafted guy who had almost 10 sacks last season. Addison may get paid big bucks too but he also may be overlooked and if the Packers could snap him up and possibly trade for Connor Barwin, with a veteran Cornerback added to the mix and a draft full of young DB's and edge rushers, the Packers would be able to continue to build while making an immediate upgrade.
Of course, as the "trade-offs" section suggests, this scenario begs the question, "Who do we lose?". Well certainly Datone Jones and probably Julius Peppers. Maybe even Micah Hyde in this scenario. But Ted could then do what he does best and draft some young talent that will eventually turn out to be stars. In the meantime, the returning second year DB's have competition, a veteran to set the expectations, and another year to possibly stay healthy.
Conclusion
If Thompson can get one…Just one Cornerback out of the group that will be available after March 9th, I think this off-season is off to a great start. I don't expect him to do this right away, in the "frenzied" 24-48 hours at the beginning of the period. But he may go after a guy that he sees potential in but garners less interest. There may or may not be such an opportunity, but in a year where there is a glut of cornerbacks, that is the hope. Further down the FA depth chart are some intriguing prospects that might not cost so much. One of those who can add depth to the D-Line rotation or better yet a guy who can get after the quarterback would be great. If I were to hedge my bets, I would say any pickup in free agency would be a middle of the pack pass rusher or an athletic defensive lineman or, if he can't pick off a top cornerbacks, a guy like Captain Munnerlyn who I am not excited about but might be valuable if Hyde exits. The only other name down there is Dre Kirkpatrick who I don't think would be a good fit in Green Bay.
Add to this the rumors that the Packers are interested in Barwin and I realistically think (TT haters will like this) that we might
realistically expect just one of these to come about. I have to admit…I think the least likely is that the Packers pick off one of these top corners as I expect them all to get paid. The lesser free agents out there can be intriguing (as above) but don't seem to translate to a dominating defense. The addition of Barwin is intriguing as well as he sounds like he would be a great fit.
While I would love all three of these to happen, it is just unlikely so I think we all have to curb our enthusiasm while not getting into the mode of "Ted never does anything". It's just not true. What we ask ourselves is "Will Ted do anything this year?". And the signs (releasing Shields, Starks) seem to point to a "Yes". While the Cornerback situation would be my priority, if the Pack can pick up a guy who still hasn't met his potential but has some years and experience under his belt, that could be of value. The trade for Barwin would be great and the Packers seem likely to get a compensatory pick in the upcoming draft that may offset what they give up.
All in all we still have to wait and see, but to me the signs point to a free agent signing, though it may not be who we hope. But the Packers need to get back their most valuable core players, go get some veteran experience in free agency and/or through trade, and then prepare for new blood in this year's draft.
If they do that, the future will be bright for the 2017 season.
Hedging a Bet: Will Ted Thompson Make a Move?