OK, this is a post I wanted to write for a long time. The fear of backlash, jinxing the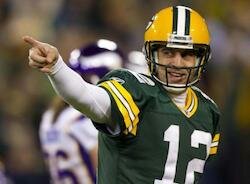 team…and the possiblity of being chewed up and spit out by Packers fans from here to kingdom come. But yesterday I was watching Steve Mariucci interview Aaron Rodgers (which was enlightening in more than one way) and Aaron himself made a comment about something I had been thinking for a long time.
Aaron mentioned what he thinks of as one of the best things that happened to the team last season. If you didn't see the interview, take a guess what THAT is, then read on.
Injuries hurt you the current season, help you the next
Aaron said that one of the best things that happened to the team last season was HIS INJURY. Yes…I didn't say it…HE did. The injury to Aaron Rodgers was one of the best things that happened to this team. Injuries tend to hurt you in the current season but often help you the next because of all the experience that players get unexpectedly. Here are five reasons that last season's injuries will help this season's Packers.
The fallout from Aaron's injury (and this is according to him as well) was that during the time he was injured, Eddie Lacy took the mantle and James Starks really started to show he was back to form.
How many snaps would Scott Tolzien have had Aaron not been injured? Would we have a solid backup in Matt Flynn if Aaron hadn't gone out?
If we expand the injury count to the defense, the numbers start to stack up. Again, it was painful to watch last season but how many young players got significant time due to the fact that one of their brothers had fallen?
I would add finally, and more generally, that injuries have made this Packers team the most gritty team in football.How many teams could have gritted their way to the playoffs missing their starting quarterback…their BEST player, for like two months! Further, how many of us Packers fans, when we heard that Aaron was out…thought, "That's it for us…without Aaron, we're done.".
Well, this year's Packers team knows that they are NEVER done. When the chips are down, play with a chip on your shoulder. This Packers, more than any other team, know that when a brother falls, somebody needs to stand in the gap. There are NO excuses, there is one goal and one goal only and that is to WIN. Many players on this team remember Super Bowl XLV where the Packers had multiple starters on IR going into the game and lost Charles Woodson and Donald Driver to injury during the game. There is no quit, there is only grit. No other team in the League has been through the fire the way the Packers have.
So the curtain is just about to rise on the preseason and the Packers have already seen a couple players go down. It's tough, but no excuses. This Packers team has promise and while their will still be injuries, we know that this team can go far.
GO PACK!!!
If Aaron Rodgers Says So…And I Will Give you Four More Reasons