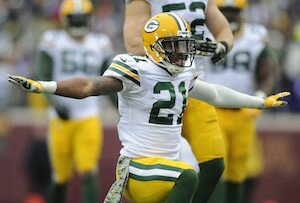 The sophomore slump. It's what every team fears following a stand-out rookie season. And, there's good reason for that. Many players that make a statement their rookie season just shift into mediocrity or become irrelevant in their sophomore season. However, there are two reasons that I think Clinton-Dix will avoid the sophomore slump and shine in 2015.

Reasons for the NFL Sophomore Slump
The contributing factors to the sophomore slump are probably many and very complex. However, I think there are two critical factors that contribute to the sophomore slump. One comes from without and one comes from within.
Let's face it. Rookies come into the league as a largely unknown quantity. They go through the NFL Combine and scouts watch tons of film and conduct in-person interviews, but the fact of the matter is, when NFL rookies hit the field, nobody really knows what they're capable of. However, those rookies that have a fantastic rookie season have one big thing against them going into their sophomore season.
Sixteen to twenty games of film against NFL caliber players (and that doesn't count preseason games). Teams are able to prepare for the sophomore season of outstanding rookies for months in advance of their sophomore season.
The other reason I think outstanding rookies fall on their face in their sophomore is that sometimes they rest on their laurels. Sometimes, they make a statement in their rookie season and get a little bit full of themselves because they locked horns with the best of the best and had success. This often precedes the sophomore slump. As the saying goes, pride goes before the fall.
Why Clinton-Dix Won't Experience the Sophomore Slump
There are a couple driving factors that, I think, will help Ha Ha avoid the sophomore slump and take another step forward in his career.
First, by the time the NFC championship arrived, opponents already had plenty of film on Ha Ha. He had started every game of the season and he still contributed in a big way in the championship game with, not one, but two interceptions. Contributions of this caliber at the end of the season don't happen unless the opponent hasn't done their homework, or the player is simply unstoppable.
Secondly, no matter what the Packer players tell us about getting beyond the NFC championship game, it will always be in the back of their minds throughout the 2015 season. Yes, a professional needs to move past failure and not allow it to impact the next play or the next game. But, anyone who has played sports knows that these things cannot be obliterated completely.
For Ha Ha, the loss in the NFC championship will drive him to become a holy terror on the field in 2015. That loss will give him the edge needed to consistently be in position to intercept passes in 2015.
2 Reasons Clinton-Dix Won't Experience Sophomore Slump