As expected, Aaron Rodgers bested JJ Watt and DeMarco Murray to win the AP Most Valuable Player award. Rodgers posted a 12-4 record with a Green Bay Packers team that seemed to have the Seattle Seahawks up against the wall until four minutes left in the game.
Rodgers is a coach on the field and plays the game faster than any other quarterback in the league, the fact that he is not in this year's Super Bowl is a true travesty to the league in general. Rodgers told Packernation to "RELAX" after a loss to the Lions…put down the Cowboys with a calf injury in the divisional round…and did almost enough to go to another Super Bowl. The fact that he played SO well injured is a testament to his commitment and a nod to his "Ironman" status.
Rodgers would have broken more records, had not his team had such a lead at Lambeau that he had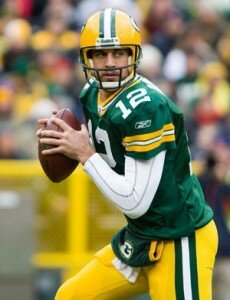 to watch games from the sidelines. This is "The MAN" of the NFL…what would our team be without him. And how hopeful is Packernation that next year will be a success with Aaron Rodgers at the helm once again!
Go Pack!
Aaron Rodgers Named Most Valuable Player In The League