When the Bears come to Lambeau Field Sunday night for their 190th meeting with the Packers, it's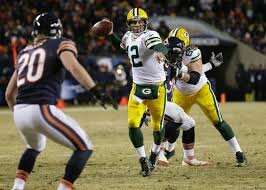 gonna be cold, possibly snowing…perfect Packers/Bears football weather. And if Eddie Lacy can continue to perform running the ball and catching out of the backfield, the stage will be set for Aaron Rodgers to light up the Bears. The last time these two teams met, the Packers didn't punt once. But here's the catch.
The catch is that in the last game, the Bears ran all over the Packers defense. Matt Forte rushed for 122 yards while Eddie Lacy (who I expect to be better this time around) ran for under 50. The Packers defense is better at home, and I would expect homefield advantage to favor the Packers bouncing back in the run defense. At the same time, the Saints game is only a couple weeks back and that game exposed the Packers weak rush defense and poor tackling. The Packers defense seems to fall apart against the run when facing dangerous quarterbacks and a good rush game. If opposing offenses can limit the Packers pass rush, the whole defense becomes a falling house of cards. Up to this point, the Packers have been able to get by with most teams, but the Seahawks, Lions, and Saints showed that in games where the defensive pass rush doesn't get there…the Packers offense will have to score 40 points for the Packers to win.
*Note: The Lions game is an exception to this, as the defense played exceptionally well in that game.
Mike McCarthy is 7-1 in the last 8 games after the bye. I think he will have an excellent game plan in place. I look for Eddie Lacy to have a big game and I wouldn't be surprised if Julius Peppers goes in again on offense and gets a touchdown. McCarthy will put him in to prove he didn't make a mistake against the Saints, and Peppers will make the easy catch this time.
GO PACK!!!
Aaron Rodgers Will Light Up The Bears: But Here's The Catch…