Not to be lost in the gleeful exuberance at the re-signing of John Kuhn is the fact that safety and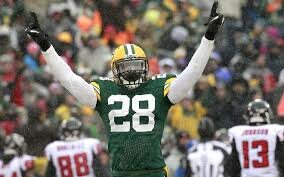 special teams standout Sean Richardson will also be back with the Packers this year. Thompson matched the offer the Oakland Raiders made on the RFA, paying him $2.5 million for one year, Richardson only played 135 snaps at safety last season but was a solid fixture on special teams racking up the more tackles than any other player. With Ted not signing Jarrett Bush yet this year (who has been the backbone of special teams in years past) I think Sean could be his replacement for the future. This signing solidifies McCarthy's statement that the special teams will be better this year. He released Slocum first to promote Zook and has let a few ST players walk or be cut so the rebuilding has begun already. Bush has been a gunner for the team for many years but last season seemed to lose his edge and speed to the up and coming Richardson.
I, for one, am excited to see what solid special teams play can do for a Packers team that is already locked and loaded on offense and should be able to be solid again on defense…and possibly great depending on the current roster and with some additions from the draft.
But let us know your thoughts, Packernation:
AM Quickslant: Sean Richardson Returns