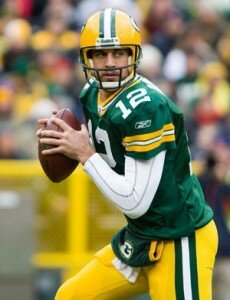 Yesterday, the Packers signed QB Brett Hundley. Most of the Packers blogosphere, fans, and the national news media expect this to be the last we hear of the kid (as far as regular season gameplay) until he is traded or moves on. The timeline is not quite right for Hundley to be a successor to Aaron Rogers and the kid has way too much still to prove. While I agree that Hundley, though not entirely developmental, is largely so…I would like to see him on the field….with Aaron Rodgers.
The two things I like most about Mike McCarthy are 1. He is a great organizer/manager (so important to his job as head coach), and 2. He is willing to think outside the box. Let's take a closer look at number two for a minute.
Mike McCarthy doesn't think of players by position as much as by skill set, body type, and ability. And when he sees an opportunity, he is willing to think outside the box. Case in point: how many were expecting BJ Raji to trot out onto the field on offense in 2010? McCarthy saw a body type he liked and did not hesitate to employ it when the opportunity for success arose. McCarthy has shown this through his early cross-training of the TE/FB position and while we have had less and less need for this as Ted Thompson has developed this team, if McCarthy sees an opportunity, I would not be surprised if he takes it. Enter Brett Hundley.
At 6'3″ and 226 pounds, Hundley was the top performing quarterback in virtually every drill at the
Combine. The only problem is that he's not that good of a quarterback…not yet anyway. McCarthy and the Packers brass are obviously excited to have a kid with those kind of measurables to mold into a quarterback though and, depending on how he develops, I would not be surprised to see him take the field in a couple years. If the kid develops, I just imagine McCarthy's gears churning up two quarterback sets that have never been seen before in the NFL. And I am not talking about gimmick plays here. McCarthy is also a genius at sequencing the use of his out of the box thinking and rolling it out when it is needed. Just imagine if the Packers hurry-up offense lands the Pack in the redzone and freezes the defensive set. Then with one quick substitution, the Packers have a 4 WR set with Brett Hundley in the backfield in pistol formation next to Rodgers…or at H-back…or split out. If I was on defense, while I was glad I didn't have to worry about Eddie Lacy, it would be a WTF moment. Such moments are at a premium in the NFL and with both Rodgers and Hundley dangerous on the ground and through the air…it could get interesting.
The kid's got a long way to go to prove that he belongs, much less that he can be the second behind Aaron Rodgers. He is certainly far away from any play other than preseason. But I love that he is a "football nerd" and seems to be a hard worker and I just wonder what Mike McCarthy might begin to dream up if this kid develops under he and Aaron's tutelage. I think if McCarthy is willing to think outside the box…we might see Hundley a time or two, and we might be treated to some ground-breaking football.
Go Pack!
AM Quickslant: Think Out of the Box With Brett Hundley