In a prime-time game loaded with playoff implications, the Packers let it get closer than it should have. Aaron Rodgers put on a clinic, but the defense gave up way too many points in the second half.
Offense: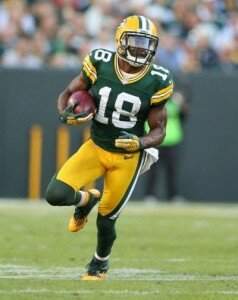 What can I say…Aaron Rodgers is quickly cementing himself as a Lambeau Legend and one of the best at the craft of quarterback. Aaron distributed the ball and particularly to Eddie Lacy out of the backfield. Randall Cobb had a very important third and long catch for conversion before Jordy Nelson's 60 yard TD. The offense sputtered at times in the second half and seemed to take their foot off the gas a little but the Jordy TD was a big spark.
The unsung hero of the offense was James Starks, not just for strong running during the game but especially for the run to the two yard line with 1:37 to go in the game. Starks took the outside and managed to stay in bounds a hair's breadth from the sideline, forcing Atlanta to call timeout.
Defense:
Wow…just wow! Why did Packernation have to watch Julio Jones run up 250 yards, never being adjusted to. We didn't roll a safety over the top, we didn't make sure he had under and over…we just did nothing. Thanks to a "meeting of the Joneses" where Julio Jones met Datone and Brad Jones, Julio was not able to come back in the game. NOT a good showing by our defensive backfield and it started with the fact that their was very little pressure up front.
The Packers defense is going to have to make some corrections if they are going to be good enough going down the stretch. Can't give up that many points.
A win is a win
All in all though, a win is a win. This Atlanta team is a team with offensive weapons as we have said here. The Packers come away with a very important win at Lambeau and continue their stay atop the NFC North. It wasn't pretty, but we'll take it.
An Underachieving Defense and an Unsung Hero