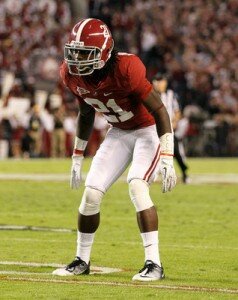 It's been quite some time since Ted Thompson hit it big on cornerback in the draft. In fact, you'd have to go all the way back to his days in Seattle where the current Packers GM endorsed the selection of Washington State cornerback Marcus Trufant. That's not to say Thompson hasn't built the position well – Sam Shields was quite the find in undrafted free agency – it's just that his wins haven't come in Radio City Music Hall.
For the most part, Ted has avoided early-round selection of cornerbacks, his only early-day pick being second-round bust Pat Lee in 2008. Thompson added Al Harris look-a-like, Davon House, in the fourth round of last year's draft but so far has seen zero return on investment. With a fair amount of cornerback talent in the first two rounds of this year's draft, don't be surprised to see Thompson make a move with either the 28th or 59th pick.
While top-rated corner Morris Claiborne will be far out of Green Bay's reach, they have to like the man ranked right behind him. Alabama's Dre Kirkpatrick presents the exact size and physicality that Thompson covets in his cornerbacks. Kirkpatrick, however, is a first round lock and seems unlikely to make it to the Packers' pick at 28.
When the Packers miss out on Kirkpatrick they can turn their attention to Janoris Jenkins and Stephen Gilmore. What Jenkins lacks in size he makes up in athleticism, with punt return ability an added bonus. Gilmore meets the Packers' height requirements and is projected to come off the board right around or slightly after their first round pick.
Three mid-round cornerbacks could draw Green Bay's consideration if they come in bargain territory: Alfonzo Dennard, Jayron Hosley, Trumaine Johnson and Josh Robinson. While their lack of size will probably turn Thompson away, these three corners could be effective in the slot the same way Charles Woodson has been over the past couple years.
Over the past two drafts, Thompson has bypassed highly touted corners in cornerback-heavy drafts in favor of early-round linemen. Could the weakest cornerback class of the past three years be the group that Thompson taps for a potential competitor to Sam Shields? As is always the case, that information is unknown by Thompson himself until draft day.
Mike Davidsen grew up in the north suburbs of Chicago and graduated from Indiana University with a degree in Finance. Mike has been a Packers season ticket holder all of his life and just recently became a shareholder. Mike joined GPN in May 2010 and specializes in draft analysis.
5 Responses to "2012 Draft Analysis: Cornerbacks"