There has been a lot of talk about how the Packers offense could be "special" this year, but what does that mean? In this series we will look at key statistics from last season to determine what positions, units, and aspects of the game could be improved to make the 2015 Packers offense better than the 2014 Packers offense.
It all starts in the trenches, so let's start with the offensive line, in particular…sacks allowed by the offensive line.
Last year saw the Packers offensive line truly come together and gel as a unit, even with the center position being manned by a rookie. Corey Linsley was sensational in a position that can be very difficult, and though he had a miscue or two (really, who wouldn't), the Packers and Aaron Rodgers are very much looking forward to having him back as a second-year player.
In 2013, the Packers gave up 2.9 sacks per game, and in 2014 with a relatively healthy line and the addition of Linsley, the Packers gave up only 1.8 sacks per game That is more than a sack per game less on average than the year before or almost 38% less. What if 15 minutes with Geico could save you 38%…or Target had 38% off fishing equipment for Father's Day, would you change car insurance and re-outfit your fishing gear? I know I would. That number was good enough to tie with the Dallas O-line for 8th in the league. Top ten is pretty good.
But here's the cool part, some of the Packers toughest competition was from week 17 through the playoffs with games against the Lions, Cowboys, and Seahawks. In that stretch of December/January games (yes, two were played at home), the Packers averaged only 1.3 sacks per game. This tells me they were playing their best football at the end of the season. Oh, and keep in mind that during these games (part of the Lions game), Aaron Rodgers' had to play the role of pocket passer because of his injured calf. The offensive line protected him best when he needed it most, when the season was on the line, and when Rodgers could not help them out with his escape ability.
So how does the best offense of 2014 become "special"? Well, job one is of course to stay healthy. But if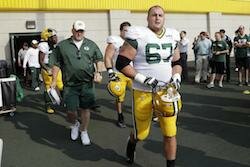 this offensive line picks up where it left off at the end of last season and improves on that 1.9 sack per game average, just think what Aaron Rodgers will do to opposing defenses. This O-line is a top ten line now…what if they become a top five line? If they start fast in 2015 and play the way they were at the end of last season, they certainly will be. In fact in that last stretch of three games, they were a top five offensive line. And though they have another tough schedule ahead of them, the Packers could not be in a better position, with everyone back and Linsley in his second year, to take a step forward with their offensive line.
Go Pack!
Breaking Down a "Special" Offense: Part 1