The bye week is a good time to reminisce about our great Packer past. Today, I was thinking about
the great transition that took place on September 20, 1992. On that day Don Majkowski went out of the game and Brett Favre stepped in. And I haven't thought of "The Majik Man" much since.
But Majkowski doesn't get enough credit. Anybody remember "The Cardiac Pack"? How exciting it was to have a chance…to have the possibility to be a playoff team? Remember how precious wins were? The NFL is a tough place to win, and the Packers were getting it done if only by field goals…or even extra points. Remember when the Packers finally beat the Bears after getting trounced for all those years?
And then, it all changed.
One man stepped on the field. Young, raw…talented. Brett Favre took the field and Packernation changed. A rocket for an arm, a stiff-arm spin move that made defensive greats look silly, and more heart than Packernation had seen for a long time. Don Majkowski was a good quarterback, he led the league in passing in 1989, he just happened to be followed by a GREAT quarterback. The Majik Man's pain was Packernation's gain as we were then treated to the all the wins, all the spills, all the thrills, and at the pinnacle…the return of the Lombardi Trophy to its rightful home in Titletown, USA.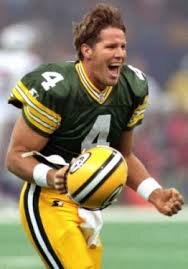 Packernation, we have had so many years of success, I wonder if our sense of the toil of success has been diminished? We feel we that NFC North titles are our right…that we are entitled well, to Titles. Certainly, with as good a team as we have, we should be in the mix year in and year out. But I hope we never lose the sense of excitement and pride that winning brings by losing sight of how hard it is to defeat these teams week in and week out.
After Brett's career in Green Bay was over, Aaron Rodgers stepped onto the field. Last year we got a horrifying taste of how hard it is to win without Aaron. But when he is on the field, we expect to win. But we are finding out once again that in this league, wins are hard to come by and anyone can rise to the occasion on any given day in the NFL. But keep in mind…this includes the Packers.
So, to our guys in Green and Gold, "OK team, it is time to begin the rise, to wipe clean the slate of
the first half of the season and take the first steps forward on the downhill side of the 2014 season. We don't win games because of our name, because we are the Green Bay Packers. We win games because we, like so many before us in this greatest of all franchises, went out and played not just their asses but their hearts out. Only you guys truly know how hard it is to win in this league. But that is the very reason that you guys savor victory in ways that we cannot. And let me tell you, Packernation LOVES to win! So let's go win some games, what do you say?
And to Packernation, as we watch this team once more take the field and throw themselves around not just for the money, or the entertainment of fans, but also for the Packer Pride that has just a little bit more meaning…is a bit brisker in the pulse because it is a source of pride not just for Packers fans but for the whole NFL. For the history and grand tradition of the Green Bay Packers is certainly stitched into the very fabric of the NFL.
Enjoy,..every…SECOND!
GO PACK!
Brett Favre Opened the Door to Packer Entitlement