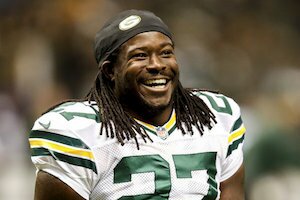 Mike McCarthy says stats are for losers…yet he uses them every day. In reality, I agree with McCarthy wholeheartedly…I constantly see stats quoted as if they are predictive…especially in fantasy football. But McCarthy uses the statistical data to get a clearer picture of tendencies and understand where the focus needs to be, and that is valuable. So from time to time, I do "Circle the Stat" and pull out a stat or two that I think matter and talk about why it matters. Usually, I do it on the live show "Good PackerNation Morning" but I thought I would throw in a bonus edition here.
Our first stat involves the Pro Football Focus ranking of all the running games in the league and as we can all imagine, it is not pretty for the Green Bay Packers. The Packers run game is ranked 30 out of 32 teams, behind only the Giants and the Minnesota Vikings (who on top of everything, lost their offensive coordinator today). We as Packers fans know that the woes in the ground game have more to do with injuries than anything else. With Lacy on I.R. and Ty Montgomery having to fill in – which he couldn't do against the Falcons – the Packers and their fans should be glad that James Starks was finally back to practice today even though he was not having a stellar season.
Starks was important in the Super Bowl run back in 2010/11 but is also far removed from the form he had at that time. After what was a career year last year, Starks has done little so far in 2016 but the Packers still need another element to work the backfield and with Montgomery and Ripkowski that element is a tailback.
It would be hard to envision Starks coming back to anything like his 2010 form but the Packers just need someone back there to keep defenses honest. The Packers still have Don Jackson and he showed a little something against the Falcons…and now that Knile Davis has been released by the Jets, he could be picked up without giving up anything in return (I doubt it though) but the Packers have to put something together in the backfield to hold the line until Eddie Lacy perhaps can come off the I.R. list.
So the situation is dire, no doubt, but it is good to see that Starks is able to get out on that surgically repaired knee. The Packers know that a lot more will have to ride on the right arm of Aaron Rodgers but it would be good to at least be able to line up a power formation on the goal line, even if it is just "respectable misdirection". The Packers have a long stretch away from Lambeau after this weekend's game against the Colts and will need a ground game to have a chance to get it done against some good teams.
Go Pack!
Circle the Stat: Bonus Edition