What a game, WOW! it is looking good for this team down the stretch that's for sure!
Everyone was billing this game as a shootout, I wrote in my pre-game post that it was going to come down to whose defense played better and that's exactly why the Packers pulled out a hard fought win against a very high powered offense with Tom Brady. The defense put pressure on Brady throughout the whole game but just could not get that sack until it counted most, Mike Neal along with Mike Daniels got to Brady on a 3rd down with the Pats threatening to score a TD, With that sack it pushed them back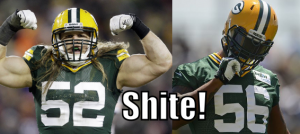 to attempt a 47 yard FG which went wide right to keep the score at 26-21 with a little over 3 minutes left in the game. All the Packers needed to do was pound the ball and get a couple first downs to seal the deal and Aaron Rodgers pass to Cobb on a 3rd down into tight coverage did just that.
I guess my rants for this game would be that Crosby missed a FG and had a kickoff that went out of bounds were two big mistakes that could have cost them the game if the defense was not playing stellar ball this game. The Packers also need to do better when they get into the red zone, Three drives which Aaron marched his team down field against a very good defense ended in FG's instead of seven points! If the Packers score TD's on those drive this game would have been a blow out. But all in all it worked out in the Packers favor because of the defense, Yes I am saying it. The defense won this game not the offense. If the defense does not play stellar ball this game the Packers offense only getting FG's would not have been good enough to pull out a win.
Okay back to ranting some more, On the first drive Lacy ran the ball right down the Pats throats and by doing that it made them have to respect the run the whole game, The Pats keyed on Nelson and Cobb this game which opened up Adams who in my opinion was the offensive MVP this game even though he dropped a key pass that would have been a easy TD he still made big catches that kept drives alive to get the Pack in scoring position. The defensive MVP would be a toss up with Daniels for getting pressure the whole game on Brady or Barrington who Capers decided to put in and sit Hawk during their nickle/dime packages, I wrote in the pre game post as well that Hawk is just too slow to play this game now and it would seem Capers agrees, Barrington along side Matthews in the middle is the strongest this team has looked all year. If they keep playing this way teams will no longer be able to run up the middle or send TE's in short crossing routes across the sweet spot. With that said I was also impressed with HHCD this game he made some key plays on Gronk that validated his draft status IMO. As he said he is no longer a rookie and with play like this I have to agree
Alright I have rambled on enough let me know your thoughts on the game.
Go Pack Go!
Jeff
"D" Up! Let's Hear It For The Packers Defense