In parts 1&2 of this series we talked about the role of the play callers and the running backs in creating a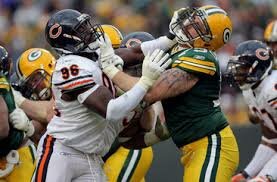 balanced offensive attack. Today we're going to talk about the role of the O-line in the Packers success against any defensive set.
In my opinion Green Bay's ability to run block is the single biggest improvement the team has seen this year. If you'll recall this comes after a preseason which saw a lot of shake up on the offense of line. Before the season started the O-line for the Packers was very much in question and saw the early exit of starting right tackle Brian Bulaga. I give Ted Thompson a lot of credit for drafting David Bakhatiari in the first round. While Bakhtiari has not been stellar in pass protection (sometimes he doesn't move his feet so well) he has held up well facing premier pass rushers as the only rookie starter in the league at left tackle.
Because the O-line has been the only major shakeup on this team…well, before the injuries started anyway, I give a great deal of credit to the improvement of the run-blocking to the Packers continued success in the run game. Whether this success is because the line has perfected the zone scheme or because they have moved to a more power oriented run blocking system, we have seen not just Eddie Lacy and James Starks have 100+ yard games, but also the much maligned Jonathan Franklin have had success running the ball. This has made a difference in first downs, third-and-short, and the goal line play calling and made defenses "pick their poison".
* Note: As hard as it is to mention, with the absence of Aaron Rodgers for what looks like an extended period of time, this O-line may play a pivotal role in the Packers being able to keep pace in the NFC North division. What a bitter irony that when the Bears stacked the box, Green Bay was eventually unable to throw the ball without A-Rod…"Get well soon Aaron!"
But the Packers O-line helped Lacy rattle off 150 yards in a game where the Bears had no intention of respecting Seneca Wallace's ability to throw the ball.
So the Packers O-line has made a difference in our offense being able to deal with anything a defense can throw at them. Hat's off to them and continued success as the team will really need them for the foreseeable future if we are going to be able to keep our playoff plans alive. As of this writing, however, the O-line has seen it's own injury shakeup. We will soon find out what this offense is made of!