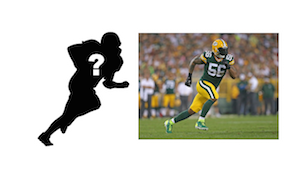 We heard it all last off-season from Bears fans.
"The Packers paid that exorbitant contract for seven sacks a season? Peppers is washed up. He's on the downhill slide in his career."
As it turns out, we paid that large contract for two interceptions for 101 yards and two touchdown. In the deal we got some nice bonuses; 7 sacks, 34 tackles, and 3 fumble recoveries.
Knowing that Bears fans had to sit by and watch Julius accomplish all that last season… makes me smile.
Still, the Packers must prepare for the inevitable.
Peppers' Eventual Retirement
At some point, Julius Peppers will call it a career and walk away from the game. That year is not 2015, but it's coming and the Packers need to prepare for it.
My gut says that if the Packers win a Super Bowl this season, Peppers will announce his retirement. It's possible that the competitor in him will want to try for a second ring, but the assumption is that the Packers probably have one or two more seasons with Julius Peppers.
Still Looking for a Bookend
That brings us to the question that needs to be answered some time in the next two season.
Who will replace Julius Peppers?
Since the drafting of Nick Perry, the Packers have been looking for that illusive bookend for Clay Matthews.
Nick Perry
Drafted in the first round of the NFL draft, Nick Perry was expected to become the other half of a defensive machine that would make the quarterbacks of the league wish it was still a run heavy league and they could just hand off the rock and get out of the way. Things didn't turn out as planned.
Despite struggling with injury, Perry has gradually contributed more and more. Still, contributing is not going to be enough to become the guy who can step into Julius Peppers' shoes when he calls it quits.
I still have high hopes for Nick. Here's hoping in the next couple of seasons he can make the leap.
Jayrone Elliot
Elliot was an undrafted free agent. The cards were stacked against him even making the team but he made a big statement right out of the gates. If you watched the preseason games (yes, I love the green and gold so much I watch every preseason game) then you saw Elliot log an impressive 5 sacks in four preseason games. In fact, against St. Louis, Elliot had 3 sacks in four consecutive plays.
Mike Neal
Neal started 10 games in 2013 but only 3 in 2014 due to the arrival of Julius Peppers. He's entering his fifth season which makes us wonder. When a player gets that far down the road and has not developed, the chances that he will eventually develop start to get smaller. Still, Neal could surprise some people and become an impact player.
Andy Mulumba
Mulumba showed some promise in his rookie season, but his sophomore season was cut short as he suffered a knee injury in week 2. I think he made the transition from defensive end to outside linebacker fairly well. He may just come out of the woodwork.
Thoughts?
What about you? Where do you think the Packers will find and develop Peppers' eventual replacement?
PM Quickslant: Finding the Heir Apparent to Julius Peppers