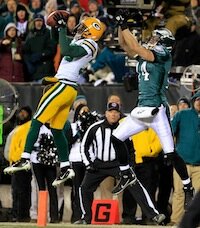 There's been a bit of discussion about inconsistency in Tramon's play over the course of the last couple of seasons. Mike listed him as #8 in his Ranking the Top 15 Players on the Packers article.
While Tramon struggled mightily in some of those games, the stats tell a different story.
Tackling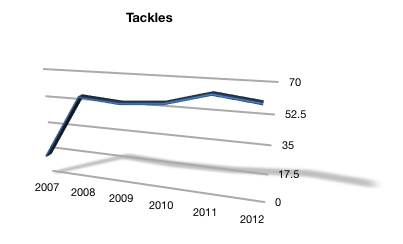 In the 3-4, it's critical for the defensive backs to contribute as tacklers. In 2012, Morgan Burnett was tied at #19 in the NFL for tackles and we all know how active Charles Woodson was as a tackler for the green and gold.
Williams played 16 games in 2007 but only started one of those games. After the 2007 season, his tackle numbers jumped dramatically and they stayed around the high 50s and low 60s. That includes last season when he struggled with the shoulder injury.
Passes Defended
Williams has typically been the Packers go-to guy when it comes to matchups with the opponent's #1 receiver. In 2010, when the Packers won the Super Bowl and Williams was selected to the Pro Bowl, he was outstanding.
As you can see in the graphic, Williams' stats dipped in this area but didn't fall off by any means.
Interceptions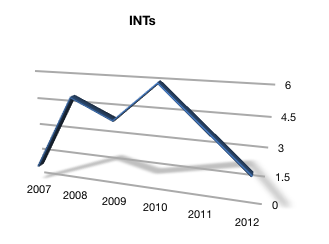 This is probably the one area that has some Packer fans claiming that Williams is losing his touch. We all love to see the Packer defensive back field pick off passes and Williams only registered two INTs in 2012.
What I expect from Williams in 2013
Despite his shoulder injury, Tramon continued to play during the 2012 campaign. He claims the shoulder was structurally sound all season, but he admitted that the nerves needed time to recover. It's pretty clear that he continued to have pain throughout 2012 but made a herculean effort to continue contributing at a high level.
I expect the off season has been good for Tramon's shoulder. I think much of the pain will be gone by the time training camp hits. And, I expect in 2013 we'll see the Tramon Williams we were all pumped about in 2010.
Has Tramon William's Play Declined?