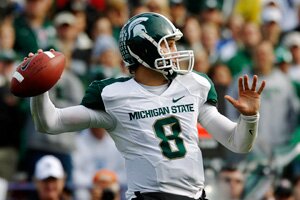 Having just lost Matt Flynn to Seattle in free agency, the Packers will be faced with their first offseason since 2008 where quarterback is a relevant position to scout for heading into the draft. The Packers barely missed a handsome return on their seventh round investment in Flynn but discovered the value in developing a middle-of-the-road passer behind a great one. Expect Green Bay to draft another arm this year that can serve as insurance for Aaron Rodgers and potential trade bait in a couple of seasons.
The target QB crop for Ted Thompson and Co. will be third and four tier quarterbacks in this year's draft. Off the board before that group will be the draft's top talents, Andrew Luck and Robert Griffin III. Not far behind the stud duo will be Ryan Tannehill, who has been mentioned as a potential top ten pick. Arizona State's Brock Osweiler and Oklahoma State's Brandon Weeden comprise the ho-hum second tier of quarterbacks.
While I would be surprised if Thompson went after a quarterback anytime before Day 3 of the draft, anything is possible. Selecting an undervalued passer in Round 3 of the draft wouldn't leave much room for return in an eventual trade scenario – but, half the value of any QB prospect is the insurance policy. Thompson should have the green light from Packers fans to draft a quarterback anytime after the third round.
Three prospects stand out as particularly draft-worthy for the Packers. Nick Foles of Arizona presents the ultimate physical package, standing 6'5″ and weighing over 240 pounds. Foles has an arm but would need guidance on game management and control. Russell Wilson is already a fan favorite but lacks the height required to see over linemen in the NFL. Wilson's strength and speed make him a potential candidate though, with the added benefit of having played in Wisconsin weather.
Perhaps the most ideal quarterback prospect for the Packers to consider in the mid-rounds is Michigan State's Kirk Cousins. For months I've named Cousins as a good fit for Green Bay, adept at running an offense and putting together successful drives. Like Flynn, Cousins is a smart and efficient signal caller with room to grow under Packers QB coach Tom Clements. Unfortunately for Thompson and the Packers, Cousins may be long gone by the fourth round of the draft.
Whoever the Packers add in the draft will compete directly with Graham Harrell for the Packers' No.2 quarterback spot. Harrell was robbed of Mike McCarthy's quarterback school last offseason due to the lockout and will be on the same level as his competition in that regard. Harrell, however, may be best suited to fill in for Rodgers early next season simply due to his familiarity with the offense. McCarthy and Clements should have a lot to work with by the time camp rolls around.