As of March 10th the 2015 football season officially kicked off. The media calls it the free agent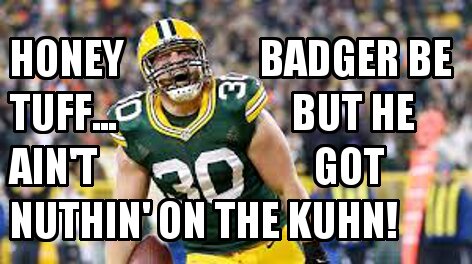 frenzy and this year lived up to the name. I, for one, am glad that Ted Thompson only works on signing his own players and stays away from paying big money for other teams projects.
Offense
Cobb and Bulaga were the focus players and Thompson was able to work out deals with both to assure the offense will be intact for at least two more years (with the exception of Kuhn and I believe he comes back on a veteran friendly contract for at least one more year and maybe two).
Defense
The Packers defense did improve last year after Matthews was moved inside but they really need to figure out a way to keep him outside rushing the QB along with Peppers and still not regress back to the way it was before his move. If they do not have a ILB already on the roster like Carl Bradford or Adrian Hubbard who can fill the void then they need to get at least one plug and play inside linebacker in the draft ( Kendricks is my pick ) to play next to Barrington and still maintain the high caliber of play in coverage and against the run.
Another position that is a need this year is cornerback. Shields is a core player and in my opinion just
a slightly above average corner, Williams is getting old and was beat on several occasions this year by young receivers with speed but with the departure of Davon House he may be the best option to try and get signed, Hayward is a average slot corner but has yet to prove he is ready for the starting position outside but if they can't get Williams signed he could be thrust into the role this year. Goodson is the 6th round draft pick from 2014 but saw very little playing time last season so to say he can step in and play the perimeter is a reach.
My guess is in the draft they will go after a ILB in the first round only if one of the rookies from last year has not made leaps and bounds to step in. But if they believe they have their ILB already on the roster then corner would be a target for the first round. Trae Waynes is one I would like to see come to Green Bay he is a Wisconsin bred player out of Kenosha but went to Michigan to play his collegiate career.
But enough about what may happen let us hear about what you think has already happened with the re-signings of free agents this year in the comment section below or back on the facebook homepage.
Go Pack Go!
Thanks,
Jeff
2015 has officially kicked off