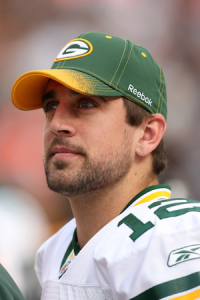 If you're like me, you were suprised at how compelling last night's game was from start to finish. Usually, the first pre-season game doesn't feature many starters and then is just about individual play of a few young guys and looking for performers on special teams that give themselves a chance to make the team. Last nights game had all that…and more.
Starters don't miss a beat
Contrary to many, I expected to see more of the starters in this first preseason game and certainly expected them to play. There had been too much talk about veterans playing on special teams and the team getting off to a fast start to think that McCarthy was going to coddle anyone who wasn't sidelined with injury.
The starting offense wasn't perfect by any means (to me they looked like the offense early agains the Seahawks in the first game of the season last year) but they looked in sync and Eddie Lacy looked like…well, Eddie Lacy. Cobb (1-16yds) and Nelson (2-25 yds) got their reps and Davante Adams (3-17 yds) got plenty of balls thrown his way. While there were a few drops on catch-able balls (especially would have liked to see Adams catch that TD), it is important to remember that having tape of what a team does wrong is important too. The starters and the whole team last night got what I would call "good work". They showed that they were in sync and the young guys got some good reps and the team got to simulate a lot of 4th down attempts which is important. Another question mark that remains is the redzone offense when the ones went up against the ones. But this team proved that it is not starting from scratch by any means.
But I also saw three reasons to breathe easier about this team that had nothing to do with the starters.
1. Young cornerbacks step up and begin to answer questions
Training camp showed that this year's defensive backfield was going to be a ball-hawking backfield. But that is just training camp. And the pre-season is just the pre-season too but it was very good to see Rollins and Gunter out there competing for balls and while Rollins should have had two picks, he showed that he was a serious contender with anyone on the field. I liked how Rollins filled on tackles with three tackles and an assist. And Gunter showed that his training camp carried over to the field as a physical player and that strip/interception was just a fantastic play. Gunter expected a stick route in the situation but his instincts told him that there would be a go. He followed his instincts and ended up in position to rip the ball away and had a nice return to boot.
The play of these young corners is important as the defensive backfield is one of the places where the Packers lost starters. Judging by the game last night (and again it was not perfect), the backfield is going to be fine. It will be interesting to see how the young corners play as the offenses get more complex in successive pre-season games but the Patriots put on several concepts and Rollins and Gunter in particular stood up well.
2. Jake Ryan makes a splash at ILB
Another big question mark for the Packers was the linebacker position. While Andy Mulumba continued to shine, his position at ROLB and behind Julius Peppers and Mike Neal (current depth chart) mean he will not have that much playing time anyway. The real question that Packers fans have had is whether we can find a difference-maker at ILB. Jake Ryan came in and had an active day, registering 3 tackles and 3 assists (6 total) and getting one sack that was set up by Datone Jones (who also had a good day).
If the inside linebacker postion improves without needing Clay Matthews at ILB, this defense could take a step forward in 2015. It remains to be seen if Ryan is the answer but the defense in general without Mike Daniels and at times without BJ, got good push up front and threatened and hurried Garoppolo all night. Once again…good work last night.
3. Tight ends
On offense, the tight end position is one that has not been a great threat since the departure of Jermichael Finley. Now with Richard Rodgers topping the depth chart as expected and Andrew Quarless after an early drop catching two passes for 21 yards, the Packers may start to have the ability to bring the tight end position back into the playbook more, especially in the red-zone.
But to me it was the performances of Perillo and Kennard Backman that encouraged me that tight ends lower on the depth chart are going to push the top two. Perillo ended the day with two catches for 23 yards and a long of 16 yards and Backman had two catches for ten yards and a long of six. It will be fun to see these guys develop as they get more time. Perillo at 6'3″ and 250 pounds looked big and strong but also with surprisingly quick feet.
So all-in-all the Packers had a night of very good work and everyone is pleased (with a few exceptions that we will talk about right here). The most important thing, of course, is that the team stayed relatively healthy and put in good work while allowing the injured players to rest. The team still has work to do but they showed that they can hit the ground running this year.
Go Pack!
3 Reasons to Breathe Easier