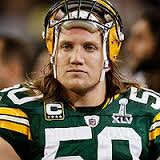 As many of you know by now…AJ Hawk, 5th pick overall…has been released by the Packers. This moves the Packers from a re-vamping year at inside linebacker to a re-building year. For all of his knocks (mostly due to the fact that he was picked number 5 overall) AJ was a consummate Packer, a phenomenal teammate, and an all around good guy. Just read his statement and you will see that AJ went out with dignity and class:
"I spent nine great years in Green Bay. I had awesome teammates and coaches and a great medical
staff and equipment staff. Many of them have become my closest friends. We won a ton of games, as well as a Super Bowl, and I loved everything about playing for one of the greatest franchises in all of sports. The fans in Green Bay are incredible. Between playing at Lambeau Field as well as seeing them on the road, they always supported us. I am looking forward to my next opportunity in the NFL, but I'll always cherish my years as a Green Bay Packer."
So good luck AJ, and thank you for all you did for this Packers team that we love so much! Check the box below to tell AJ Hawk that you appreciate his years of contributing to Packers greatness:

Loading ...