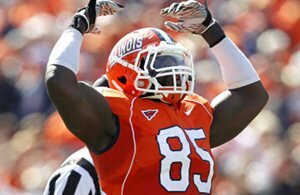 The Green Bay Packers changed to a 3-4 defense in 2009, and since then general manager Ted Thompson has not made drafting the outside linebacker position a top priority. Three-time pro bowler Clay Matthews is the lone early-round selection by Thompson at the crucial position in the defense, but after the anemic production in 2011, there is urgency for an OLB to taken high in this year's draft.
Matthews was the 26th pick in 2009 after the Packers traded two third-round picks to move up from the second round to nab him and this year would be the perfect time for Thompson to use that aggressiveness once again.

Basketball coach, sports writer/broadcaster/blogger, Packers & SF Giants enthusiast.
Intuitively, the selection of back-to-back first round tackles over the past two drafts makes one think that Ted Thompson will lay off the position in 2012. However, Ted has never been one to shy away from elite talent that's available in bargain territory. At the same time, the late first round selections of Bryan Bulaga and Derek Sherrod were unique in that they satisfied both BPA and need criteria.
Now that need is not as much of a concern, it would seem less likely that the Packers GM would pounce on a tackle in the first round unless it was an clear cut steal. To add to that, this year's tackle class isn't as front-loaded as the previous two drafts. With USC's Matt Kahlil and Iowa's Riley Reiff looking like top-15 locks, the only other hands-down first round tackle would be Stanford's Jonathan Martin.
Mike Davidsen grew up in the north suburbs of Chicago and graduated from Indiana University with a degree in Finance. Mike has been a Packers season ticket holder all of his life and just recently became a shareholder. Mike joined GPN in May 2010 and specializes in draft analysis.