Posts Tagged 'outside linebacker'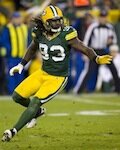 With the NFL's 31st ranked defense, the Green Bay Packers will have a difficult time winning a second consecutive Super Bowl by stopping teams defensively. It appears as if that title will be won or lost on the arm of Aaron Rodgers; a big reason for that is the lack of talent in the defense's front seven.
It can't be overstated just how great of a general manager Ted Thompson is, but if there is one area of this team he has neglected in the past two drafts it is the pass rush – and in particular the outside linebacker and defensive end positions. The front seven is the key for teams with 3-4 defenses to excel. Read the rest of this entry »

Basketball coach, sports writer/broadcaster/blogger, Packers & SF Giants enthusiast.