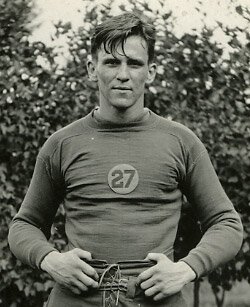 A continuation of our series on Packer greats from before the 1943 NFL helmet rule. If you missed the others in the series, you can find them here.
Johnny Blood McNally was a colorful personality both on and off the field. His speed and ability was unquestioned, but his… interesting antics must have caused some early gray hairs for coach Curly Lambeau.
Johnny Blood started his professional football career with the Milwaukee Badgers.. you read that right.. the Badgers. In those days there was a big struggle between college and professional football as colleges were constantly after pro teams about stealing players from the college ranks. Pro teams ceased the practice (at least openly) but college players found ways to get around the system. One of those ways was using a pro football alias.
So, one day John Victor McNally was walking past the movie theater with a friend when he spied the name of the movie that was playing, "Blood and Sand." He turned to his friend and exclaimed, "You'll be Sand and I'll be Blood." And Johnny Blood was born.
Early in his pro career Johnny bounced around to several teams with names that make me chuckle. After a time with the Milwaukee Badgers, he played for the Duluth Eskimos, and then to the Pottsville (PA) Maroons.
Finally, in 1929 he landed in Green Bay and his football career took off.
While in Green Bay he led the Packers to three straight league championships from 1929-31 and another in 1936. In 1935 he led the Packers' innovative passing attack with 25 receptions, a record that was broken the following year by rookie, and receiving superstar, Don Hutson.
Johnny Blood McNally's Many Antics
What really made Johnny a stand out was a list of on-field and off-field antics that ranged from eliciting an eye-rolling to making people want to pull their hair out. The following is a list of some of the many things McNally was reported to have done:
Apparently, at one point Johnny had run a bit low on money. He commenced to swing down from a balcony to the eighth floor ledge outside coach Lambeau's hotel room window to ask for an advance. Lambeau gave him the money.
Late for the team train one day, Johnny raced ahead of the train and stopped his car on the tracks, and leaned against the fender waiting for the train to come to a stop just a few feet in front of him. He then removed his car from the tracks, boarded the train, and joined his teammates on their way to the game.
He once fled a towel fight with teammate Lavvie Dilweg by climbing onto a fast-moving train, ascending to the roof of the nearest car, and crawling his way to the engine.
He played nearly an entire game with a collapsed kidney.
At age 33, Johnny Blood, still a speedster, pushed rookie Don Hutson to the limit in the 100 yard dash.
The Packers were scheduled to play some all-stars from Hawaii. While the ship was en route to Hawaii, his teammates had to rescue him from the flagpole that hung off the stern of the ship.
In a lung capacity test, he blew the top off the testing machine.
True to his name, he supposedly sliced his own arm open so he could sign an autograph in his own blood.
He once sent Lambeau into an on-field screaming fit when he stopped five yards short of the endzone, allowed the defense to catch up, and then proceeded to carry several defenders over the goal line for a touchdown.
In 1934, Lambeau decided he couldn't take any more of Johnny's wild behavior. In a quest to maintain his own sanity and avoid early cardiac arrest, Curly sent McNally to Pittsburgh.
McNally was never happy about the move. Pittsburgh wasn't a very good team (to say the least) and he always wanted to get back to Green Bay. In 1935 Lambeau brought Johnny back to Green Bay for one more stint with the Packers. In 1936, his last season with the Pack, he was a part of yet another championship team before, once again, being shipped off to Pittsburgh.
Johnny Blood the Coach
After his career as a player, Johnny tried his hand at coaching but with no success. For a time he coached at Pittsburgh, then ended his coaching career at St. John's in 1950-52. He was succeeded by Jim Gagliardi. On his way out, McNally told Gagliardi, "No one can win at St. John's." On November 19, 2012, Jim Gagliardi retired as the winningest coach in college football.
While his career ended on a sad note, there was never a dull moment for Packer fans when Johnny Blood McNally was in a Packer uniform.
Before There Were Helmets: Johnny (Blood) McNally