Brett Favre sat down with Steve Mariucci on the morning that Peyton Manning goes out on the field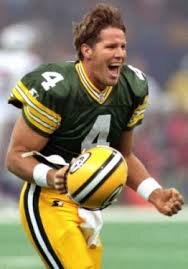 with a realistic chance of breaking the career touchdown record. No Packers fan will forget the day that Favre broke the record, with an in route to Greg Jennings, a "Monumental milestone in a legendary career."
But few records stand the test of time and when Peyton breaks Favre's record…it will be temporary bliss and one day, Manning will have to watch someone surpass him. But there are is one thing I love about Brett Favre's career in touchdowns.
Brett Favres record was made by BRETT FAVRE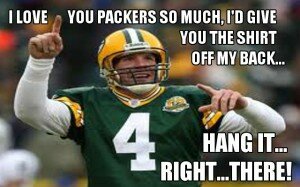 Yes, Peyton Manning may surpass the record but who could ever have done it with more character than Brett Favre…I mean really…just watch the Peyton Manning footage compared to the Brett Favre footage and you will see the difference. The Packers quarterback Brett Favre has so much more interest and verve??? Yes, Brett is the most memorable and beloved quarterback the NFL has ever seen. And he had over 500 touchdowns!
Hey Packernation, let Brett know that he is still number ONE in your heart! CLICK on the poll below to let Brett know that while his record may have gone…he is still remembered:
[poll id="40″]
Brett Favre Speaks to Mooch About The TD Record