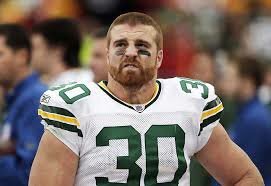 Packers fans are all about gritty, no-nonsense football players and no one embodies that essence like John Kuhn. He's not flashy, he's not pretty but he is also NOT someone you want to have to deal with when it's 3rd or even 4th down and there's only a yard to go. John Kuhn doesn't run the ball often, but when he is needed, he delivers. And the Packers did need him last season, especially during a playoff run in which Aaron Rodgers was bothered by a tweaked calf. All of Packernation wants this guy signed, and not just because it sounds oh, so good to shout "KUUUUUUHHHNN!" when he makes a play. The two-time Pro-Bowler and last year's first team All-Pro is more than just a chantable personality.
The case for Kuhn
Pass protection. John Kuhn was a big part of the pass protection scheme for Aaron Rodgers, especially in those last few games in which Rodgers was playing with a gimpy calf. Veterans in pass protection are not exactly a dime a dozen in the NFL and Aaron Rodgers is the Packers' number one asset. Do we really want to put his health in the hands of someone else right now?
Run blocking. With a stallion like Eddie Lacy in the backfield, it would seem the Packers do not need to spend money on a fullback. Eddie Lacy is a hammer but never underestimate the importance of competent blocking. Remember a couple years ago, when Randall Cobb caught that all-important touchdown pass against the Bears in the last game of the season? Aaron Rodgers would have been sacked on that play by Julius Peppers if it were not for…you guessed it…John Kuhn.
Character. John Kuhn is "Packer people" plain and simple. He contributes on the sidelines as much as anyone on the team. Kuhn has been described as the guy that gets most excited when the Packers make a big play. Young guys on this team need to see that in the huddle, during plays, and also on the sidelines. John Kuhn plays a bigger role than his statistics.
So come on Packers, sign John Kuhn! Get a deal done already! This Packers offense is ONE
signature away from intact and with guys like Jeff Janis and Jared Abbrederis coming back, we could even take another step forward. With all the running backs signed for big money during free agency, it is not beyond the realm of possiblity that the Packers see a "best player available" by the name of Melvin Gordon still on the board at pick 30…just think….
Lets do what it takes to bring John Kuhn back to Green Bay!
Go Pack!