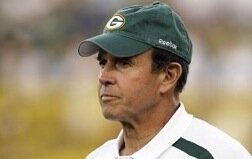 For several seasons now, Dom Capers has been under fire. Packer fans everywhere are calling for his head on a silver platter. I think that's an over reaction. Here's why…
Since Capers arrived at Green Bay, the Packers have actually had a very good defense. Dom arrived in 2009. From that time through 2012, the Packers have ranked #4 in points allowed (19.3) and #4 in overall TDs (138). Granted they took a step backward in 2012 in the points allowed category, giving up 21.0 points per game. Still, they ranked #11 in the league.
Remove the 2012 defensive stumble and the Packers rank #1 in TDs allowed from 2009-2011 with 101.
In both 2009 and 2010, the Pack had a top ten scoring defense. In 2011, the Packers won the turnover battle or tied it in every single game.
All of this says we have a pretty good defensive coordinator.
With all of that said, it still alarms me that in three of four post seasons the Packers' defense has not gotten the job done. Playoff production is one of the things that has Bart Starr ranked above other Packer QBs in my mind. When the playoffs arrived, Bart was unstoppable. That's something we'd like to see out of this defense and really haven't seen yet.
The core question that comes to my mind when I see people calling for Capers to be fired is…
Who would you choose to replace him? And, the answer of "anyone" just won't cut it. If the Packers are going to fire Dom Capers, they have to have a name in mind. So, who would the Packers pick that could post the numbers listed above or better them and also have a great showing every time the playoffs arrive?
Show me that person and I'll be happy to jump on board the fire Capers wagon. Until then, I think firing Dom is a bit of an overreaction.