Well Packernation, it appears that our hopes of a Fan/Favre reunion have once again been dashed. Word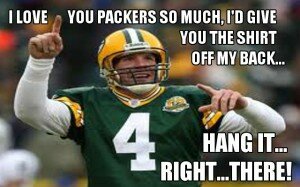 came out today from the NFL Network that the Packers are NOT planning to retire Brett Favre's jersey this coming season…and the reason…the reason…is that it is feared he will be boo'ed. That's right, basically the blame is going to land on the fans…they don't believe we can forgive and forget. Even Aaron Rodgers wants Brett back and yet there are still enough unforgiving fans to make the organization nervous. Well GPN is NOT gonna take this sitting down so we have put together a petition to prove to the Packers organization that we are ready to cheer the stars out of the sky above Lambeau Field if they will retire Brett's jersey THIS SEASON!
So click on the link and let us know you're ready to CHEER!
Scroll down for the submit button:

We want to hear from those members of Packernation who want Brett's number retired. We don't know what the response will be but if it is convincing, we plan to send the results to the Packers organization so DON'T wait…sign now! Mark Murphy said that the reaction of the crowd could be an issue and he was worried because "You can't control 80,750 people." So let's get 80,000 plus e-signatures and try to get that jersey retired!